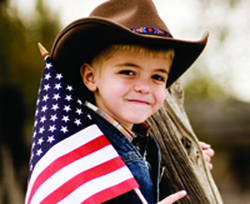 expect to see places more beautiful than you've imagined!
Dubois, WY (PRWEB) February 4, 2011
Imagine the amazement and sparkle in your child's eyes after a day of horseback riding into the old west or attending a real cowboy cookout that's incredibly delicious! You'll find this and more in a Wyld West Yellowstone vacation package which is currently being offered by Absaroka Family Adventures. These all-inclusive packages have itineraries that include safe and exciting whitewater rafting or scenic float rides, fishing expeditions, horse -back trail rides, educational wildlife walks and a fabulous hike exploring authentic Indian petroglyphs; "expect to see places more beautiful than you've imagined!" You and your children will enjoy the experience of learning authentic Western crafts taught by local artisans; something so much more appreciated than a cheap plastic souvenir.
This summer why not treat your family to the vacation of a lifetime! See both Yellowstone and Grand Teton National Parks. Enjoy days of rafting, horseback riding and ATV adventures, with picnics in pristine alpine meadows. Spend your nights around campfires with an Indian drum circle, and do it for 40 percent off regular package prices.
A Wyld West Yellowstone Vacation incorporates all the family adventures Northwest Wyoming has to offer into a jam-packed week of fun! Offering an array of dining and accommodation options, you can find what you're looking for at a price you will love!
You and your family will love staying in the Yellowstone gateway community of Dubois, WY which was voted the "#2 Most Western Town In America 2011" by True West magazine. The weather is perfect in the summertime with highs in the 80's and lows in the 60's.
The best part? This Yellowstone vacation is "all-inclusive!"
All the work is done for you, just show up and be entertained with a mixture of cowboy musical dinner shows and fine dining. Similar packages in the area are priced at more than $12,000 a week for a family of four. Your Wyld West Yellowstone Vacation including accommodations, meals, recreational activities and entertainment has an average price of a third of that; with the discount it runs right around $4,000 for a family of four. This is an all-inclusive Yellowstone vacation package that is hard to beat, and at these rates why aren't you already dialing?
###