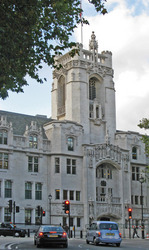 (PRWEB) February 5, 2011
The UK's leading secondary glazing specialist, Selectaglaze has helped transform the Supreme Court Building in a major recent project. Working with main contractor, Kier Wallis, Selectaglaze has helped improve the environmental credentials and security of the Supreme Court building in central London by installing some 450 separate secondary glazed window frames. This has achieved a significant improvement in thermal efficiency, a reduction in draughts and a significant improvement in sound insulation as well as window security, all without disturbing the appearance of the external windows in this important listed building.
Located on Parliament Square, opposite the Houses of Parliament and close to Westminster Abbey and the Treasury Building, is the UK's first Supreme Court. The site was originally occupied by Westminster Abbey's Sanctuary Tower and Old Belfry where fugitives sought refuge from their pursuers. In 1889 the old courthouse was replaced by the first Middlesex Guildhall, which housed the Middlesex County Council and Quarter Sessions. This soon became too small and was subsequently replaced in 1913 by the present "art nouveau Gothic" building. Seventy years later it was converted to a Crown Court, accommodating seven criminal courtrooms and numerous cells.
Working on behalf of the Ministry of Justice, the design team for the Supreme Court, led by Feilden and Mawson and supported by Foster & Partners, developed refurbishment plans conserving the fabric of the building while creating a modern working environment. With its 6,000 square metres of internal space, the building now accommodates the requirements of the newly created judicial authority with ample space for members of the public to observe the Court in action and to facilitate live media broadcasts.
Establishing the Supreme Court at Middlesex Guildhall has reinvigorated this historic building and restored its beautiful moulded timber beams and tall perpendicular stained glass windows, many of which bear the armorial glass of the Lord Lieutenants of Middlesex.
Main contractor Kier Wallis called upon Selectaglaze, the UK's leading secondary glazing specialist, to help improve the building's environmental credentials and window security through designs and specifications sympathetic to the complex variety of windows found in this Grade 2* listed building. One key objective was to achieve BREEAM rating 'Very Good', which required a significant improvement in the thermal efficiency of the windows and reduction in draughts. The external windows could not be modified and hence secondary glazing, a reversible adaptation to a listed building, offers an ideal solution. The use of a hardcoat low emissivity glass within the secondary window lowers the U-value, a measure of heat loss, to below 2.0.
Sound insulation was equally important for the proceedings of a Court set so close to one of the busiest parts of London, with its constant noise from heavy traffic and crowds of tourists. The Selectaglaze windows, glazed with a thick laminated glass, can reduce noise levels by more than 45dB and will also markedly improve the security of this sensitive building.
The project required 450 separate window frames ranging from hinged casement, vertical sash, fixed and horizontal sliding to sympathetically treat the very wide range of window styles. This included a significant number of gothic arches and three large shaped acoustic screens between the public gallery and Courtroom 3.
Selectaglaze secondary glazing is purpose made and can be discretely fitted with minimal disruption in occupied buildings. It is recommended by Heritage bodies for use in Listed buildings and those in conservation areas but is equally applicable to almost any building type.
Established since 1966 and a Royal Warrant Holder since 2004, Selectaglaze is at the forefront of product development and design. The extensive range of products are tested and certified for acoustics, thermal efficiency and for enhanced protection against intruders and the effects of blast. Product literature and data sheets covering performance and test results are available on request from enquiries(at)selectaglaze(dot)co(dot)uk or telephone 01727 837271. Or visit the company's comprehensive website:
http://www.selectaglaze.co.uk
For editorial enquiries, please contact Annie Deavin of Marketing Vision on 07947 831143 or email at annie(dot)deavin(at)btconnect(dot)com
###