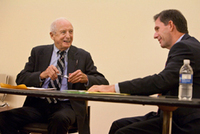 We're looking to create an effective model that can be replicated in other schools – especially urban schools with diverse student populations that have struggled with standardized test scores
Cambridge, MA (PRWEB) February 4, 2011
Lesley University and the Cambridge Public Schools today announced a new three-year partnership centering on the Kennedy-Longfellow School. Lesley's Partnership School Initiative creates a collaborative relationship between the university and Kennedy-Longfellow faculty focusing on curriculum and the integration of digital technology in every classroom for every student.
"Together with the faculty of the Kennedy-Longfellow School, we'll be exploring ways to use technology to engage students with the curriculum in order to enhance student learning," said Lesley University President Joseph B. Moore. "We're looking to create an effective model that can be replicated in other schools – especially urban schools with diverse student populations that have struggled with standardized test scores."
The partnership is funded through a $2 million gift from Albert Merck, philanthropist and a former Director of Merck & Co., Inc., and his wife, Kate. The gift will support digital devices for students and faculty, between Kennedy-Longfellow and Lesley faculty, and a sustained focus on student learning.
"Skilled teachers using advanced digital applications can shift the culture of classrooms from teacher-centered to student-centered, truly engaging students with the curriculum – which is essential if we're to instill critical thinking, problem solving and knowledge acquisition among students," said Merck. "If we can develop this model with Lesley, a university with a national reach, we hope to be able to share what we learn here in Cambridge with educators nationwide."
"This is an exciting collaboration grounded in the thoughtful exploration of technology to focus on student learning, and in the strong relationship between Lesley's faculty and students with the Cambridge Public Schools faculty," said Dr. Jeffrey Young, Superintendent of the Cambridge Public Schools. "This partnership is a key component of Cambridge Public Schools' I nnovation Agenda, a design for excellence that will improve the quality of education across the City. We are deeply grateful to Lesley University and Mr. Merck for choosing to work with Cambridge students and teachers."
Cambridge Public Schools' Innovation Agenda is creating a network of upper schools to strengthen academic programming and social experiences for 11 to 14-year-old students.
An important component in selecting the Kennedy-Longfellow School for this initiative, Moore said, was a principal and faculty open to collaboration and cooperative innovation. Kennedy-Longfellow's principal, Christine Gerber, said her faculty is excited about the partnership, and eager to work with Lesley.
"This is an opportunity to think creatively about student learning, but with the resources to execute a new approach grounded in sound research and best practices in how students learn, how they can succeed and take ownership of their own life-long path of learning," said Gerber. "We look forward to the dialogue and the collaboration with Lesley, and seeing those conversations result in tangible improvements to the way our students learn."
The Kennedy-Longfellow School, located in East Cambridge, serves a diverse range of 403 students from kindergarten through eighth grade. The Cambridge Public School district includes 12 elementary schools and one comprehensive high school serving a total of approximately 6,000 students. The students and their families are served by more than 700 teachers and assisted by more than 450 support personnel.
Lesley University is a 9,000-student, multi-site university for women and men, and is one of the nation's largest providers of graduate professional education opportunities to K-12 educators. Anchored by a strong liberal arts curriculum, Lesley offers undergraduate and graduate programs in education, the arts, human services and the environment at its Cambridge and Boston campuses, online, and in 150 locations in 23 states. Lesley's four schools include the School of Education, the Graduate School of Arts and Social Sciences, The Art Institute of Boston, and Lesley College, an undergraduate residential college. The National Center for Teachers, Counselors and School Leaders at Lesley serves beginning and mid-career educators, as well as districts and education organizations. Lesley University prepares individuals for lives and careers that make a difference, and serves the evolving needs of students and a diverse society through innovative programs and pedagogy, high quality instruction, scholarship, advocacy, and outreach.
###