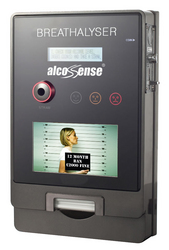 (PRWeb UK) February 3, 2011
That's the verdict & feedback from last week's EAG, where RLMS Sales and their partner AlcoSense, spent a busy 3 days demonstrating this new Coin Op Product, designed for Pubs, Bars and Hotels. Hunter Abbott, Managing Director AlcoSense:"My Company, Now Group, has spent the last few years developing the AlcoSense Morning After handheld unit for the Consumer Market. Winning a number of accolades for Product innovation and accuracy, this is now successfully sold via established Retail outlets such as Boots, Halfords, Maplin, CostCo. and other on-line & retail channels. Moving to a Coin Op version seemed to be the next logical move as the unit helps to bring awareness to Pub goers as to exactly when they are below and above the drink limit which varies hugely from person to person.
We wished to partner with someone within the Coin Op sector who could introduce us to this new market and we're delighted to be working with RLMS Sales. The feedback during and from the show has been fantastic. We've spoken and demonstrated to a myriad of Pub Retailers and machine Operators, most of whom have never seen a product of it's kind and most of whom concurred that it was an excellent step forward in the area of Social Responsibility."
The AlcoSense WM1 uses an advanced platinum electrochemical (fuel cell) sensor which provides accuracy levels comparable to hand-held breath-alcohol testers used by the Police. It features a 7 inch LCD screen which can be used to show stills or movies for promotional purposes. It is priced at £599 + VAT without the advertising screen and £699 + VAT with the advertising screen. It's operated by a £1 coin.
Phil Boulton, MD RLMS "Of course, for every Coin Op Product, there has to be a good return on investment, whether Stakeholders believe it's a good and responsible idea or not. The unit is neat, compact and sensibly priced. First batch of machines went out in January and we believe target cash box needs to be in the region of £35-£40 per week. However, that doesn't include the opportunity for Advertising Revenue from local Taxi Operators, Non Alcoholic Drinks brands etc. Combine the 2 and the unit could have a very quick pay back, allowing the Pub Retailer to offer a facility which can raise their Customer's awareness on safe Drink Drive levels which has to be a PLUS in the areas of Corporate Social responsibility, Education and Licensing.
We look forward to working with Hunter and his team in establishing this new genre of Coin Op Product within the appropriate Alcohol licensed sectors and we couldn't have asked for a better start than the reception it got from EAG".
For further information on the AlcoSense Unit, call RLMS Sales on 0845 603 666 or AlcoSense 0800 195 0088
###