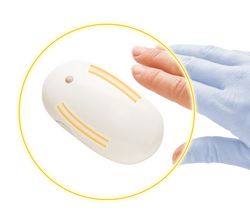 ULPP brings intelligence into proximity sensing and natural simplicity into interaction with a device.
Weßling, Germany (PRWEB) February 4, 2011
IDENT Technology AG, developer of innovative proximity sensing and 3D gesture control solutions, has announced that it had signed three license contracts with major IC manufacturers in 2010 for its patented ultra low power proximity (ULPP) technology. In addition, a leading global OEM (original equipment manufacturer) license partner also launched a mouse product utilizing ULPP last month.
Klaus Zeyn, vice-president of sales and marketing for IDENT Technology, commented, "The fact that three global licensees have signed up within a period of one year and another OEM has released a mass market consumer product makes this is a significant landmark in IDENT Technology's history. ULPP is an award winning technology for e-field based proximity sensing and is considered best in class for mobile consumer electronics devices. What makes ULPP so different and unique is that it provides superior reliability with its ability to distinguish an intended user action from other environmental conditions."
He adds, "It is being used to replace traditional input methods to wake up or switch on a product by physical grip, touch or simple sensing of a user's presence - for example to automatically unlock a handset, answer or reject a call. ULPP brings intelligence into proximity sensing and natural simplicity into interaction with a device."
The company's ULPP technology was introduced in 2009 by IDENT Technology following its corporate refocus on the consumer electronics market. It is part of IDENT Technology's patented and scalable Z-Sense core technology pool, which allows manufacturers to incorporate intelligent proximity detection and 3D gesture control in their products.
ULPP technology is the world's first sensor system especially designed for mobile proximity sensing – it is an electric near field sensing technology which enables ultra low power proximity detection, making it ideal for automated wake-up and control of mobile devices even without the need for a user to touch the device. In combination with other sensors, total device position awareness can be achieved. ULPP provides the industry's lowest power proximity technology with only 2-4µA power consumption, and runs IDENT Technology's EZApplication software suite.
The computer mouse product launched last month utilizes the EZApproach and EZGrip features from this suite, enabling robust hand detection to switch on the mouse only if gripped by the user from both sides. These features also eliminate false function calls, such as unintended clicking or scrolling if the device is not actually being gripped by the user; this supports a very long battery life time of two years. Additionally ULPP uses a unique patented methodology for reliable operation under varying environmental conditions. This means that it is self adaptive to where it is being used, always providing the same performance while being able to reliably distinguish between a real user action and changing environmental conditions. Devices using ULPP can reduce power consumption by up to 90 percent.
Editor's notes
About IDENT Technology AG
IDENT Technology AG is an award winning company offering intellectual property and semiconductor solutions. These enable unique proximity sensing and revolutionary 3D gesture control user interfaces based on near field electrical sensing for the consumer electronics industry, including mobile, gaming and other input devices. Utilizing the company's scalable and patented Z-Sense technology allows realization of sophisticated human interface features from 1D touch to 3D gesture recognition, making products much smarter than previously possible, enabling natural intuitive use. With IDENT Technology's solutions and EZApplication software suite, manufacturers can quickly bring to market products which no longer require buttons or keys to switch a device on or off, to start applications, to point, click, zoom, scroll and more on any consumer electronics device. For more information, visit http://www.ident-technology.com.
# # #