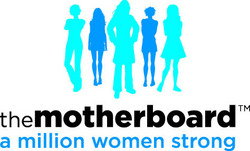 New York, NY (PRWEB) February 4, 2011
What moms are really thinking – right now! The Motherboard is all about moms helping other moms make their lives a little easier – and below are some timely tips from The Motherboard's popular national lifestyle expert, Maureen Petrosky.
Be My Valentine!
A Motherboard poll of moms shows that most, 66%, view Valentine's Day as a fun excuse to eat chocolate, but don't get upset if their partner comes home empty-handed. Other moms, 17%, absolutely love the holiday and still others, 17%, think it's way too commercial. Topping mothers' Valentine's Day list is jewelry, trips, time alone with their husband, spa/beauty packages and gift cards – and of course, flowers and candy! Valentine's Day is primarily romantic for 40%, but it's also a fun family day, since 28% of moms think the holiday means doing something special for the kids. The Motherboard moms share some of their easy and inexpensive hints on making Valentine's Day "sweet" this year:

Bake Valentine-themed cookies or cupcakes together
Decorate adorable and heartfelt cards for loved ones with the kids
Prepare a dinner featuring each family member's most "loved" dish
Chocolate is a welcome Valentine's Day indulgence and moms have lots of strategies for finding the "good" pieces in the box:

24% take a small bite, but put it back if they don't like it
21% break the candies in half
20% like not knowing
9% poke a hole in the bottom of the chocolate and the rest have other techniques like reading the liner or guessing based on shape
To help celebrate Valentine's Day, Walmart has designated a special section for "treats" of all kinds – from candy and jewelry to digital cameras and unique personalized gifts, there is truly something for everyone with prices that won't break the bank.
The More Family Time, the Merrier!
"Family time" is a chance for families to chill out and enjoy each other's company. For The Motherboard moms, carving out time for family helps them stay connected. 65% would like to find "family time" more than once a week, while 30% think a day a week is perfect.
What are the biggest challenges to quality family time during the winter? Moms say it's finding an activity the whole family can enjoy, challenges of getting around in the cold weather and overbooked schedules. But moms have some great low-budget ideas about making together time special:
Plan a Movie Night each week and snuggle up with some popcorn. If the weather is frightful, have a "Moviethon!"
Play and stay active with Twister, the Nintendo Wii or even by setting up an indoor obstacle course
Take advantage of the weather and build a snow fort, go on a winter hike or cross country ski
To Date or Not To Date?
Kids and dating is a "hot topic" on The Motherboard. The Motherboard polls show moms generally feel comfortable with their 14-17-year-old children starting to date, especially in groups, if they know where their kids will be going and who they'll be with (even on Valentine's Day). However, a large majority of The Motherboard moms, 80%, think that 10-13-year-olds are too young to go out.
To join the conversation with moms from coast-to-coast visit: http://www.themotherboard.com
For more information and statistics or to arrange interviews with Maureen Petrosky contact:
Alison Grand, Grand Communications, Inc.
212-584-1133, alison(at)grandcommunications(dot)com
###