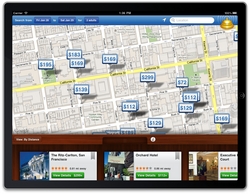 Ann Arbor, MI (PRWEB) February 3, 2011
Mobiata, creators of the best-selling apps FlightTrack, FlightTrack Pro and FlightBoard announced today the launch of HotelPal 2.0. This update to the HotelPal app (released in 2010) adds even more hotel listings for the iPhone as well as a beautifully optimized experience for the iPad. Since the app is a universal binary, it works on both iPhone and iPad, but the iPad provides a much more lush browsing experience.
HotelPal 2.0 is free, available in the iTunes App Store and is an upgrade to HotelPal—a tremendous success as a resource for travellers who are seeking a complete picture of hotels available in their specific area of need while also offering the ability to book rooms instantly and easily from the app. As more and more people are taking their iPad while travelling, Mobiata wanted to offer a more visually-pleasing experience while using HotelPal.
"One of the key features of the iPad's success is its gorgeous visuals that keep people engaged," said Ben Kazez, founder of Mobiata. "For that reason, we spent the last few months on HotelPal 2.0, making sure it would be the most beautiful hotel-booking app on the market for iPad users. I believe we succeeded in doing just that."
Along with more listings for the iPhone, the iPad-optimized HotelPal 2.0 includes:

Completely redesigned user interface
Brochure-like navigation for viewing hotel listings
Page-turning interface to give users a rich browsing experience
Deluxe, wood-paneled background design
Ability to view multiple listings at once
HotelPal 2.0 is FREE and available for iPhone and iPad at http://www.mobiata.com/HotelPal. An updated version of HotelPal is also available in the Android Market.
Images are available upon request.
About Mobiata
Mobiata creates best-selling mobile travel applications for smartphones and emerging devices. Since its founding in December 2008, Mobiata's applications have been featured by the New York Times, Wall Street Journal, Forbes, Washington Post, TechCrunch, USA Today and in Apple TV and print ads. Mobiata's apps include the best-selling FlightTrack, FlightTrack Pro, FlightBoard, TripDeck and HotelPal applications. Mobiata is headquartered in Ann Arbor, Michigan. For more information, visit the website at http://www.mobiata.com. Follow us on Twitter: @mobiata.
###