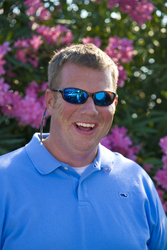 "I don't work part time and I don't 'dabble' in Real Estate. It is my passion."
Outer Banks NC (PRWEB) February 8, 2011
What recession? Matt Myatt, Senior Associate Broker, is once again recognized as Village Realty's "Sales Agent of the Year", a title he also held in 2009 by overcoming the hurdles of the slow real estate market and economy like an Olympian track runner; closing 38 transactions and breaking an all-time record for Village Realty.
Matt's outstanding sales achievements for 2010 include 36 closings totaling $10.3 Million in sales.
What sort of motivation could there be when statistics and economic reports are headlining short-sales, foreclosures and real estate doom and gloom across the country?
"It's a competitive market--always has been--but I set my own personal goals and try my best to beat them every year. I make it easy for clients to get in touch with me, 24/7. I don't work part-time and I don't 'dabble' in Real Estate. It is my passion. I think the secret to overcoming the obstacles is to work ten times as hard for what used to be easier. It might take me ten closings to make the financial goals that I have, that once upon a time would only take one. That's okay. That's how I roll."
Matt attributes his ambition to the way his parents instilled a sense of personal honor in him back in his football/baseball playing days. If he was going to play, he was going to play his best game, giving his all. It's like that in real estate too…and it's not just about selling homes or paying the bills...it's about real people who NEED someone to be there for them. Matt makes it a personal daily goal to return calls and emails within the same day, within the same hour, if possible. His clients sure appreciate that kind of service and tenacity, and when they are ready to buy or sell, Matt is right there with 'i's dotted and 't's crossed.
Congratulations to Matt Myatt! Looking forward to his next record-breaking year!
Village Realty has been in business for over twenty years and has offices in Corolla, Nags Head and Columbia. They manage over 500 Outer Banks vacation homes...from luxury condos and golf villas to oceanfront, oceanside and soundside cottages. Ocracoke Island Realty, a sister company, provides professional vacation rental management and sales on neighboring Ocracoke Island.
For information on Outer Banks Beach properties for sale, or to list your Outer Banks home with Matt, contact: (252) 207-6588 or visit http://www.MattMyatt.com. For more information about Village Realty contact: (800) 548-9688 or visit http://www.villagerealtyobx.com/OuterBanks/VacationRentals/.
# # #