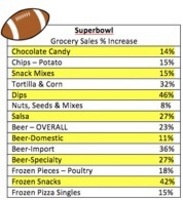 Colchester, VT (PRWEB) February 3, 2011
It's no secret that the Superbowl is one of America's eating holidays, but what exactly are consumers buying when they prep for that party? MyWebGrocer examined shopper data from Superbowl 2010 to see what foods – and brands – stores should expect to see increase in sales this year.
MyWebGrocer compared purchases from the week of the Superbowl 2010 to the week prior, and saw a major increase in several categories. Sales of dips went up 46%, with Heluva Good and T. Marzetti leading category sales. Tortilla and corn chip sales went up 32%, while potato chips went up 15%. Brands leading these category sales included Tostitos and Lay's.
Stores saw an increase in beer purchases, with general sales going up 23%, and an especially dramatic increase of the imported Corona brand.
Frozen snacks saw a noteworthy jump in sales at 42%, with T.G.I. Friday's and Totino's as the leading brands purchased.
About MyWebGrocer:
MyWebGrocer drives digital connections between consumers, grocery retailers, and Consumer Packaged Goods brands. MyWebGrocer creates and manages digital solutions for clients including websites, digital media, online circulars, email marketing initiatives, mobile applications, social media strategies, and customer acquisition programs. MyWebGrocer works with more than 110 retailers nationally, representing over 10,000 stores, and has 1 billion dollars online transactional data nationally. The data reflected above was collected, in aggregate, from users of MyWebGrocer's digital grocery platform between 1/25-1/31/2010, and 2/1-2/7/2010.
# # #