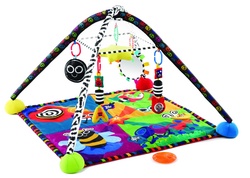 Grand Rapids, MI (PRWEB) February 4, 2011
Bright colors, rockin' guitars, and some serious tunes come together to create beat-bopping developmental play for babies with the Rock Star Developmental Gym by Sassy (http://www.sassybaby.com). Helping to stimulate babies' motor and sensory development, while encouraging coordination through play, the Rock Star Developmental Gym offers babies the opportunity to explore the world of color, music, sights and sounds. Parents will enjoy actively facilitating these efforts with their child, as well as the unique, easy to set up design.
The Rock Star Developmental Gym features:

15 developmental activities
Toys to stimulate:
o Hearing – chimes, rattles, music, squeak, crinkle
o Touch – variety of textured fabric and plastic
o Vision – bold patterns, black & white, symmetry, mirrors
o Taste – textured teether

Developmental DVD emphasizes gross and fine motor games to play with baby
Rattle sound and bold black & white patterns in suspended star
Innovative quick setup with Fast-set™ arch system
The Rock Star Gym is easy to set up and is also machine washable and travel-ready. Sassy's Rock Star Developmental Gym has a MSRP of $49.99, and is available at Target stores nationwide.
A special DVD is included as a bonus in every Sassy developmental play gym. Staying true to the company's developmental roots, Sassy has joined forces with Gymtrix™ to create and deliver an innovative DVD that promotes balance and agility, instills confidence, and develops physical coordination skills that help children stay fit throughout their lives.
About Sassy, Inc.
Founded in 1982, Sassy operates out of Kentwood, MI. Sassy enjoys distribution in all major trade channels, including mass-market retailers, food chains, drug stores, catalogs, and independent baby and toy stores in the United States. In addition, Sassy products can be found in 29 countries worldwide. Sassy's extensive product categories have grown to include developmental and attachable toys, infant and toddler bath and feeding products, grooming and hygiene products, teething products and room organization.
About Kid Brands, Inc. (Sassy's parent company)
Kid Brands, Inc., (NYSE: KID), and its subsidiaries are leaders in the design, development and distribution of infant and juvenile branded products. Its design-led products are primarily distributed through mass market, baby super stores, specialty food, drug and independent and e-commerce retailers worldwide.
The Company's operating business is composed of four wholly-owned subsidiaries: Kids Line, LLC; LaJobi, Inc.; Sassy, Inc.; and CoCaLo, Inc. Through these subsidiaries, the Company designs and markets branded infant and juvenile products in a number of complementary categories including, among others: infant bedding and related nursery accessories and décor, kitchen and nursery appliances and cooking products, and diaper bags (Kids Line® and CoCaLo®); nursery furniture and related products (LaJobi®); and developmental toys and feeding, bath and baby care items with features that address the various stages of an infant's early years (Sassy®). In addition to the Company's branded products, the Company also markets certain categories of products under various licenses, including Carter's®, Disney®, Graco® and Serta®. Additional information about the Company is available at http://www.kidbrandsinc.com.
# # #