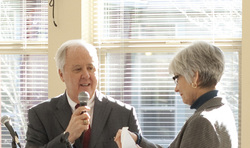 Portland, Oregon (PRWEB) February 5, 2011
Greg Rasmussen, President of Don Rasmussen Company, which represents BMW, Land Rover, MINI and Mercedes-Benz at several dealerships in and around Portland, Oregon, presented to Shepherd's Door directors Eric Bauer and Jan Marshall his 2010 gift.
Shepherd's Door is a division of the Portland Rescue Mission and provides shelter to homeless and abused women and their children. The facility provides nutritious meals, safe accommodations, a beautiful and nurturing environment, counseling and training, all under one roof. The women attend classes to help them understand their addictions; interact in support groups to help them make better choices; learn how to heal from past wounds and open up to new, healthy relationships; learn new life skills and pursue a GED (if needed).
Shepherd's Door breaks the generational cycle of abuse and poverty.
Since 2000 Don Rasmussen Company has gifted Shepherd's Door $25 for every new or used vehicle sold by their dealerships. Greg's mother was an avid reader so in addition to these much needed funds; Don Rasmussen Company created an employee reading program with the children. "Rasmussen Readers" sign up for a period of time to go to the shelter weekly and read to the children. The children thrive on the consistency of a friendly face, one that they know will not cause them any harm or sorrow.
Every Christmas the women and children are invited to one of the dealerships to meet Santa & his Head Elf (both one of our staff). All receive a warm hug from Santa and a gift especially selected for them. Their biggest joy though seems to be sitting in the new cars, cranking up the sound systems and driving toward their dreams.
"The hands-on involvement through the Rasmussen Readers program is what I am most proud of. By reading to the children at Shepherd's Door, our staff provides the positive adult interaction they need and have never received."
"Our support of Shepherd's Door helps homeless women and children rebuild their lives and that's a legacy that can last for generations"

###