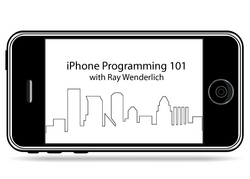 iPhone developers are in high demand and this workshop is a great opportunity for developers to learn the basics of the iPhone platform with an inexpensive workshop.
Baltimore, MD (PRWEB) February 4, 2011
Developers who would like to break into the industry of creating applications for the iPhone and iPad will have the opportunity to learn how with an upcoming workshop near Washington, DC.
The introductory two-day class, which will be headed by two experienced and successful app developers, will cover the basic skills needed for participants to get started creating apps of their own. The event will be held March 12-13 at the BWI Holiday Inn in Linthicum, Md., with classes running from 9 a.m. to 5 p.m. on both days.
"iPhone developers are in high demand right now, so this workshop is a great opportunity for individuals to learn the basics and hone their skills in this area," said Shawn Grimes, a developer and event organizer. "We are offering an inexpensive class that will provide helpful tips from two industry professionals."
The course will provide participants with a series of demos, lectures and hands-on challenges surrounding the most important APIs in iOS development, including the opportunity for individuals to create their own apps from scratch. It will cover such topics as choosing the right application template, responding to orientation changes, using navigation controllers, saving application data, porting apps to the iPad and much more.
The workshop will be conducted by Grimes and Ray Wenderlich, a full-time freelance software developer and founder of Razeware, a small iPhone development studio. His blog, http://www.RayWenderlich.com, provides helpful tutorials on programming and covers a wide range of topics for iOS developers. Grimes is a technologist based in Baltimore who has developed several games and apps for the iPhone.
"We are very excited to offer this opportunity for beginner developers," Grimes said. "This course is sure to give you the base of knowledge you need to become a successful developer for iPhone and iPad apps."
Interested participants are encouraged to register as soon as possible to take advantage of early discounts. Lunch will be provided both days of the workshop, and there will be a networking/social event immediately following the first day's classes, along with door prizes.
The BWI Holiday in is located at 890 Elkridge Landing Road in Linthicum, Md., near Thurgood Marshall International Airport. For more information or to register for the event, visit http://ios101.eventbrite.com/.
###