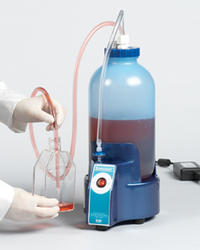 Fluid collection that's as easy as 1 - 2 - 3. Just insert a pipette tip, plug it in and turn it on!
Pequannock, NJ (PRWEB) February 7, 2011
Portable, compact and convenient, the Scienceware® Vacuum Aspirator Collection System from Bel-Art Products is a self contained system perfect for fluid collection from tissue and cell cultures, Petri dishes, plates, flasks, tubes and more, whenever in house vacuum lines are not readily available.
Each unit comes complete with one gallon collection bottle, clear flexible PVC tubing and a fast, quiet, reliable vacuum pump contained and protected within a durable polypropylene housing that doubles as a holder for the chemical and corrosion resistant, polypropylene collection bottle. At a base measurement of 23.2 x 17.1 x 43.8cmH (9-1/8 x 6-3/4 x 17-1/4"), the compact design of the pump housing and bottle will not crowd the workspace, and it can be hand-carried to wherever it is needed.
The bottle features heavy-wall construction and a self-regulating, vacuum release safety vent built into the cap to prevent implosion of the collection bottle. "If the vacuum pressure inside the bottle builds to a preset level, the vent will automatically open allowing air to flow into the bottle, as needed, to relieve the pressure," according to Robert N. Petersen, Product Manager for Bel-Art Products. "The relief of vacuum pressure thereby prevents the possibility of the implosion of the collection bottle."
The unit sets up in seconds and makes quick work of tedious culture media changes. Simply insert a pipette tip, Pasteur pipette, or serological pipette into the collection tube, plug it into a 110/120V outlet, turn it on and begin working. Useful in noisy lab conditions, a lighted On/Off switch clearly shows when the vacuum pump is on.
Whether working in a hood or at the bench, the speed, low noise level (76db at 1 meter) and minimal vibration of the pump are features that will be appreciated. Non-skid feet ensure the product remains in place and will not scratch work surfaces.
The Scienceware® Vacuum Aspirator Collection System has a replaceable hydrophobic filter. "If fluids overflow the collection bottle and wet the filter, it will seal itself and prevent air or liquids from passing through to the pump motor protecting it from fluid contamination," says Petersen. "Should this happen, a package of 12 replacement hydrophobic filters is available."
He went on to add "The Scienceware® Vacuum Aspirator Collection system is rich in features with an attractive list price compared to other vacuum aspirators on the market," says Petersen. "Competing models have prices that are two to three times higher."
Suggested retail for the Scienceware® Vacuum Aspirator Collection System, catalog no. F19917-0150 is $525.00. Replacement Hydrophobic Filters - 12 pack, catalog no. F19917-0155 is $59.25. For more information on the Scienceware® Vacuum Aspirator Collection System or the complete line of laboratory offerings from Bel-Art Products, call 1-800-4BELART, email info (at) belart (dot) com or visit belart.com.
Click Here to request a free copy of the Bel-Art Products 2011 Catalog.
Bel-Art Products simplifies tasks with innovative product solutions for science, industry and healthcare. Over 3500 items from safety wash bottles to fume hoods are manufactured and marketed under well-known brand names including Scienceware® laboratory products, Spinbar® magnetic stirring bars, Magic Touch™ icewares, Sterileware® sampling tools, Secador® desiccator cabinets, KLETT® colorimeters, and Poxygrid® racks. Established in 1946, Bel-Art Products is a United States based manufacturer headquartered in Pequannock, NJ.
# # #