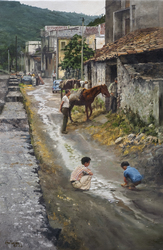 New York, NY (PRWEB) February 3, 2011
For the past fifty-five years, Hulings (born 1922) has traveled the back roads and byways of three continents, painting the splendor of work-a-day life. His sustained efforts have produced a body of work with exceptional breadth. Known equally for his still lifes, portraits, landscapes, and genre scenes, his paintings display a mastery of drawing, design, texture, gesture and atmosphere. As noted in the Christian Science Monitor, Clark Hulings "describes the air itself."
With this selection, The Forbes Galleries, is offering a rare glimpse into the remarkable career of an American master. The paintings on view have never before been shown together publicly. Some have never been outside of Hulings' own home. The combined collection presents a well-rounded look at Hulings' oeuvre, with examples from each of the last five decades. The show encompasses oils, watercolors, and drawings of scenes composed from subject matter gathered in twelve different countries.
Of the 42 works on display, 15 oils and 6 drawings will be offered for sale by minimum bid, silent auction on Friday, March 25, 2011 at 5:00 P.M. Eastern Standard Time. The minimum auction will be conducted in the galleries of Morris & Whiteside Galleries, Hilton Head Island, South Carolina. For more information about the auction, please call 843-842-4433.
The Forbes Galleries, located in the heart of Greenwich Village, are tucked within the lobby of Forbes Magazine's headquarters in New York City. Rotating exhibitions are showcased throughout the year in four changing exhibition spaces. The Galleries are open free to the public 10:00 a.m. – 4:00 p.m. Tuesday through Saturday. For more information, please visit forbesgalleries.com or call 212-206-5548.
For images and more information about all of the above, please visit the press page of clarkhulings.com or contact: Melissa Weiner, straydogmedia (at) gmail (dot) com, 505-920-4006.
###