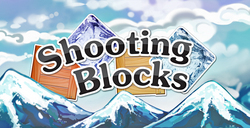 New York, NY (PRWEB) February 5, 2011
AdoreStudio Ltd, a fast-growing game developer, announces today the release of their first Demo "Shooting blocks". It is a vivid example of a user-oriented casual game as it combines important features of pleasantly performed design and captivating game plot.
"Shooting blocks" is a logical game consisting of levels which should be passed in sequence as with every level, difficulty increases. Each level represents a figure consisting of ice blocks standing on a platform. The goal of the game is to shoot all empty blocks while avoiding breaking/losing filled blocks.
The current Demo version is designed for Windows OS only, however, in the future the company is thinking about adapting it for Mac OS as well as for different gadget platforms, for example, iPod and iPhone.
At the moment AdoreStudio is working on the full-featured version of the program and planning to publish it at the beginning of spring. The final version will be enriched with more difficulty levels and will have an updated more user-friendly design, thus will bring more joy for casual games lovers.
However, this is not the only project under development from AdoreStudio. The company is working on another project at the moment and in March a new Demo product will be released. Moreover, a line of other casual games is going to be developed in the coming months. All the news and information about forthcoming releases are presented on AdoreStudio's Facebook page. For example, now AdoreGames' followers can share their opinion about new design of full version "Shooting blocks".
Demo version of "Shooting blocks" is available for direct download from the company's website http://www.AdoreGames.com where a rich variety of other games is presented for everyone's liking.
About Company:
AdoreStudio Ltd is a fast-growing casual game developer, distributor and publisher. The company is primarily occupied with distributing activity, however, the range of own products is also constantly growing. All the games, which are presented at company's website, feature captivating game plot and thoroughly elaborated design.
###