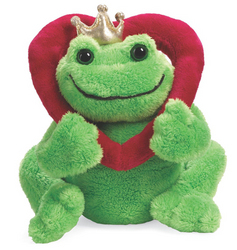 An anonymous Valentine's Day gift is a fun way to add intrigue and spice to a relationship.
Littleton, CO (PRWEB) February 4, 2011
Valentine's Day, February 14, is a day when sweethearts express their love through hugs, kisses and thoughtful gifts. But flowers and candy are often predictable and boring. An anonymous gift might be just the ticket for lovers looking for a new, different and somewhat mysterious way to show their affection. In fact, if Your Secret Gift had been in around in Shakespeare's time, Romeo and Juliet might have had a very different ending.
Options abound for those in love at yoursecretgift.com. For example, resistance is futile when Sparkie the Puppy delivers the message "I Wuff You!" on a bright red heart. Those firmly in lust might want to consider a You Light My Fire Match keepsake from designer Tamara Hensick. And if a main squeeze has had someone's back through good and bad times, he or she may appreciate a hand cast pewter heart with the message, "Through thick and thin, we remain one." Secret admirers might want to consider the Bear Heart plush bear who as a way to melt someone's heart and make a lasting impression at the office or on someone's doorstep.
Nontraditional gifts also lend themselves well to anonymous giving. If the intended needs convincing that her prince has arrived, Prince Luvstruck, a green plush frog with a golden crown and a red heart, is just begging for a kiss. If a friend is feeling a little lonely this Valentine's Day, the Hug Bear lets him or her know that someone cares. Depending on the tenor of the accompanying gift message, a single black wooden rose could convey that the sender is unconventional, or has clearly moved on. Pets can get in on the Valentine's Day action too, with a Paw Prints on My Heart silver necklace or a paw print photo key ring.
"An anonymous Valentine's Day gift is a fabulous way to add intrigue and spice to a relationship," says Your Secret Gift founder Carol Borthwick. "It's the perfect gift that makes a lasting impression they'll never forget."
Since secrecy is of utmost importance, Your Secret Gift protects the identity of the sender and allows gift senders to include an anonymous message with their gift. They can also communicate anonymously with the recipient on the website, for any desired secret follow-up.
About Your Secret Gift
Your Secret Gift LLC, (found at yoursecretgift (dot) com), offers fun ways to send gifts to flirt, provide support and encouragement, make someone laugh, play pranks, send a bad boss a wake-up call , razz a sports team rival, and more. Your Secret Gift has Valentine's Day gifts, birthday gifts, anniversary gifts, gifts for her, gifts for him, gifts for pet owners, and special occasion gifts. Items can be sent anonymously, non-anonymously or shipped to oneself. Your Secret Gift is located in Colorado and cheerfully serves customers across the United States.
For media inquiries, contact media(at)yoursecretgift(dot)com.
###