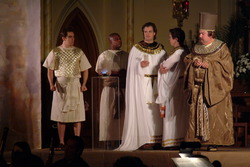 unique take on the magnificence of AIDA
Rocky River, OH (PRWEB) February 4, 2011
As such grand dimensions call for grand collaborations, Opera Circle will present "Aida" hand in hand with The Cleveland Women's Orchestra under the baton of Robert Cronquist and The West Shore Chorale, John Drotleff, Chorus Master. The production will feature a select mix of international, out-of-state, and best local singers.
Two performances only!: Friday, February 18, 2011 at 7:30 p.m. and Sunday, February 20, 2011 at 3 p.m., both at Magnificat Performing Arts Center 20770 Hilliard Blvd. Rocky River, OH 44116.
In addition to great music, Aida has a fascinating plot. Follow the story of the enslaved Ethiopian princess Aida (Dorota Sobieska soprano) and the young Egyptian general Radames (John Rodger tenor), favorite among the warriors of the Pharaoh (Ray Liddle bass-baritone). The ill-fated love of Aida and Radames faces the jealousy of the royal Amneris (Christina Carr mezzo-soprano) and the political ploys of Aida's father Amonasro (Scott Skiba baritone), King of Ethiopia in captivity. Hear the war-igniting news from the Messenger (Daniel Doty tenor), the invocations of the High Priestess (Debra Chelko soprano). Hear the advice and judgment of the High Priest Ramfis (Laurentiu Rotaru bass).
Tickets are $20 general admission and $10 for students, with reserved Sponsor Seats at $55. For reservations and information, call Opera Circle at (216) 441 2822 or email tickets(ta)operacircle(dot)org. We offer a special bus round trip from The Beachwood Place to the performance. Tickets will also be available at the door. For more details, visit us at http://www.operacircle.org or write to us at info(at)operacircle(dot)org.
The productions at Opera Circle have been made possible through continued support from The Cleveland Foundation, Kulas Foundation, The George Gund Foundation, John P. Murphy Foundation, Cuyahoga Arts & Culture, Ohio Arts Council, Northern Ohio Opera League, Polish-American Cultural Center JPII, Cleveland Society of Poles, Drs. Francis & Jane Gross, Opera Circle Board of Trustees & many other generous sponsors. Thank you for your kind support and for making tickets accessible to everyone.
# # #