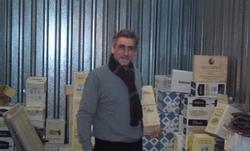 We continue to use Len Lothian over the years as the customer service is second to none – if we need instant access to our records the staff at Len Lothian have been nothing but excellent on every occasion
(PRWeb UK) February 7, 2011
A recent survey of the Len Lothian storage depots – 2 sites across Glasgow & 3 in Edinburgh – has revealed the wide array of different uses our business storage clients have for their storage space. With units varying in size from a few cubic metres to entire warehouse sections, Len Lothian caters for all business storage needs.
With a business storage client base ranging from the sole trader and new start-up through to multi nationals using the space for records storage & archiving, Len Lothian are at the heart of businesses across the central belt of Scotland.
Alistair Lothian, Director of the family owned business, said "This review has been a really interesting exercise and for me it's fascinating to see the wide variety of businesses that make use of our storage facilities". Lothian, who is based in Edinburgh, added "Being a family run business ourselves, we take pride in providing an affordable, but above all personal, service to all of our business and domestic clients."
Some recent additions to the storage vaults of Len Lothian include recent start up companies with 2 of the Edinburgh storage units occupied with bouncy castles and one with champagne! Several of these companies are purely internet based so they require additional offsite storage for their products – with flexible & immediate access to their stock.
One of the real success stories has come about through LSDC's use of the flexible self storage solutions across several of Len Lothian Edinburgh & Glasgow storage depots. Leonardo Di Canto of LSDC, who supply fresh Italian food and wine to Edinburgh restaurants, said "Having immediate access to our stock has meant that we can fulfil orders quickly and easily. We've been able to increase the amount of storage needed by tenfold as the business has grown and developed"
One of Len Lothian's longer terms clients has been storing their records in Glasgow on site for over 5 years – Alan Roger of Bellhouse Joseph Property Development said "We continue to use Len Lothian over the years as the customer service is second to none – if we need instant access to our records the staff at Len Lothian have been nothing but excellent on every occasion."
Alistair Lothian adds, "We're going from strength to strength at the moment and we certainly feel that the combination of a family run company and our entirely flexible storage can adapt to every business's needs."
About Len Lothian
Len Lothian U Store is a family owned business, run by Alistair and Douglas Lothian, who have over 45 years of experience in the storage industry. The business has 3 storage depots in Edinburgh and 2 in Glasgow, which provide self storage solutions to both domestic and commercial customers with warehousing and archiving facilities.
Contact: Hannah Gibson
Attacat (PR Division)
Tel: 0131 220 1441
###