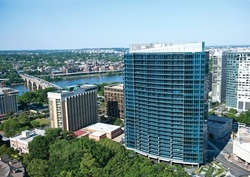 "Our timing couldn't be better," says Mr. Riordan. "There's nowhere we'd rather be. Turnberry Tower is the tallest, most architecturally modern luxury high-rise here. We're the only property like this in the market, and will be for the next several years.
Arlington, VA (PRWEB) February 7, 2011
Turnberry Tower, named "The Height of Luxury" by The Washington Post, was the Washington DC area's top-selling luxury condominium project in 2010, and is poised to break records again in 2011. With 15 signed contracts in January alone, totaling over $20 million in new sales – with an average price of over $1.3 million – Turnberry Vice President of Sales and Marketing, Dan Riordan, oversees the area's tallest residential condominium project with a spectacular view of Turnberry Tower's future.
The 26-story, sapphire-blue ultra-luxury residential tower is a beacon adjacent to the Key Bridge, offering beautiful views across the shimmering Potomac River towards Georgetown, Washington National Cathedral, the Kennedy Center, and the rolling Virginia countryside. Turnberry Tower offers luxury one-, two-, three- and four-bedroom residences that are attracting buyers from all over the world to a market that defies some of the recent national real estate trends, and is considered one of the top-selling markets in the United States.
"Our timing couldn't be better," says Mr. Riordan. "There's nowhere we'd rather be. Turnberry Tower is the tallest, most architecturally modern luxury high-rise here. We're the only property like this in the market, and will be for the next several years. Also, our purchasers are now telling us that there is increased buyer interest for their existing homes and condominiums, and that is affording them the ability to upgrade to a new way of living. We are finding that approximately seventy percent of our purchasers currently reside within the DC Beltway. Additionally, at least thirty percent are coming from outside the state and even outside the country, and want to have a residence in the DC area. This is the perfect alternative for them because of the superb location, turnkey lifestyle, and first-class amenities offered at Turnberry Tower."
Given that there really are very few condominiums currently under construction or even in the immediate planning stages, coupled with the fact that construction financing is presently hard to obtain, the reality is that once they do begin construction, there's a two- or three-year timeframe until they're delivered. The end result is a shortage of luxury condominium products in one of the highest-demand marketplaces in the United States.
Riordan continues, "All residences in Turnberry Tower feature floor-to-ceiling glass windows, which is very unique in this market, and each and every residence has its own private covered terrace of at least two hundred fifty square feet, up to almost one thousand square feet. I think that this is one of the best-looking buildings we've built in the United States in our 45-year company history."
From the moment one arrives and is greeted by the 24-hour valet and concierge staff in the porte cochere, the tone set is that of classic elegance and refined luxury. The soaring contemporary lobby, voted best "NEW CONDO LOBBY" by Home and Design magazine in its "2011 Designers' Choice Awards," is simply breathtaking. What makes the award more meaningful is that it polls hundreds of DC-area industry professionals, so the honor is bestowed by peers, not simply the public or the magazine's editors.
The grand lobby features a large marble front desk, sculptures, fine furnishings, and a fountain, and leads to a prized list of common amenities including a year-round heated indoor pool with Jacuzzi, a spacious and fully equipped fitness center, a leather-appointed theatre/screening room, and modern social room.
Each of the 247 residences offer Simplikate home technology that allows residents to request maintenance and valet services from their iPhone or Blackberry PDAs, huge rooms with nine- to eleven-foot ceilings, walk-in closets, floor-to-ceiling glass windows, and expansive terraces. Standard refinements include Snaidero Italian Cabinetry, granite countertops, Meile cooking appliances, Sub-Zero refrigeration, and classic custom Italian marble bathrooms featuring Jacuzzi hydrotherapy tubs.
Turnberry Tower offers 12 spacious floor plans, with 10 of the 12 having individual, computer-keyed private elevator access opening directly into the residence. Residences range from one-bedroom/one-and-a-half bath at over 1,300 square-feet (the average one-bedroom condo existing in the area is normally 700-800 square-feet); all the way up to four-bedroom/five-and-a-half-bath Deluxe Tower Suite with family room, dining room, and over 5,300 square-feet of luxury living space. There is something for every taste and price range in this pinnacle of the luxury condominium market, with residences starting from the $600,000s.
Riordan also notes, "We also have several large prominent lenders who are offering financing programs to purchasers at Turnberry Tower, which include some of the best financing available, with Wells Fargo, BB&T, HSBC and SunTrust, just to name a few. The lenders are attracted to the quality level that Turnberry Tower offers, as well as the fact that almost all of the purchasers are buying as a primary residence, or as a second home."
In addition to improving market conditions and the lack of anything nearing comparable in Washington DC real estate, Turnberry Tower realizes a huge payoff from its recent marketing efforts, including an aggressive campaign, both in print and online, a totally updated website, the hosting of numerous prominent events at the tower, direct mail, and an aggressive local real estate outreach program. "None of this would have been possible if we had not assembled the right on-site sales team with The Mayhood Company, which I would say is as strong as any team that I have been a part of in my 25-year development sales career. We have seen a tremendous increase in our sales activity over the last twelve months," says Riordan, "with $100 million in sales for 2010, and over $20 million already in sales for January 2011 alone."
With an on-site sales office located on the 21st floor of the tower, open seven days a week from 9:00 a.m. until 6:00 p.m., and five brand-new, designer-furnished model residences available for viewing, the level of buyer interest is no surprise. Appointments are recommended, but not required. With this level of luxury living at prices starting in the $600,000s, Riordan invites interested prospects to, "come by and see for yourself why Turnberry Tower is the number-one-selling luxury condominium in the DC area."
ABOUT TURNBERRY ASSOCIATES:
Developers of Turnberry Tower, Turnberry Associates believe there's no reason to spend a moment of your life settling for less than the best. No development Company does more than Turnberry to make sure the residential worlds it creates are second to none, from Florida, south to the Bahamas, and west to Las Vegas. Turnberry Associates is dedicated to pleasing people who can afford the finest life has to offer, setting unprecedented standards of elegance in luxury condominium living. It is proud to add Turnberry Tower to its list of accomplishments which, to date, include Turnberry Isle, Porto Vita, Turnberry Ocean Colony, Turnberry On The Green, and Fontainebleau II & III condominium hotels in Florida; Turnberry Place, Turnberry Tower, and The Residences at MGM Grand in Las Vegas; as well as The Reef Residences at Atlantis in Paradise Island. For more information, visit http://www.turnberry.com, or phone Dan Riordan, Vice President of Sales & Marketing, Turnberry Associates, at 703-243-3000 or email driordan(at)turnberry(dot)com.
###