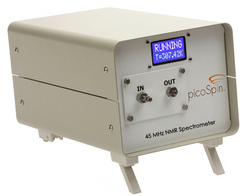 Boulder, CO (PRWEB) February 7, 2011
picoSpin, LLC has been named as an Award finalist by the internationally-known 2011 Edison Best New Product Awards™. Introduced in November 2010, the picoSpin-45 miniature NMR spectrometer is a revolutionary shoe-box-sized device that greatly expands the availability of NMR spectroscopy for a wide range of applications. The picoSpin-45 NMR Spectrometer is a finalist in the Science & Medical – Diagnostic Aids category, one of twelve categories honored by the Edison Awards.
"We are excited and honored to be a finalist for the 2011 Edison Best New Product Award™", said John Price, Ph.D., president and chief scientist of picoSpin, LLC. "We have engineered an innovative and disruptive technology that changes the NMR spectroscopy landscape. With its low price, compact footprint and true spectroscopic capability, the picoSpin-45 spectrometer enables applications that couldn't be considered in the past. Being recognized as a finalist for this award speaks to the innovative efforts of the entire picoSpin organization".
"This year's Awards recognize a broad array of innovations including far-reaching products, services and technologies that impact daily life," said Edison Awards Steering Committee chair Sarah Miller Caldicott, a great grandniece of Thomas Edison. "The Awards applaud the forward-thinking innovations for which Thomas Edison remains internationally admired. It's exciting to see companies like picoSpin, LLC continuing his legacy of challenging conventional thinking."
The ballot of nominees for the Edison Best New Product Awards™ is judged by roughly 2,000 members of the not-for-profit Marketing Executives Networking Group (MENG), an organization comprising America's top marketing professionals and academics. In a comprehensive peer-review process, the nominees are judged on Marketplace Innovation, Marketplace Success, Technological Innovation, Market Structure Innovation, Societal Impact, and Design Innovation.
Winners of the Gold, Silver and Bronze awards will be announced April 5, 2011 at the historic Capitale ballroom in New York. In addition to announcing this year's Best New Product Award recipients, the evening will feature the presentation of the prestigious Edison Achievement Award to Alan Mulally, CEO of Ford Motor Company, and to John Hendricks, Founder and Chairman of Discovery Communications, both of whom have made a significant and lasting contribution to innovation throughout their careers.
The Edison Awards Steering Committee is comprised of senior executives with diverse marketing, scientific, and business backgrounds who monitor the development and successful launch of innovative products each year. The Committee is responsible for bestowing the annual Edison Achievement Awards and serves as a guidepost in developing the list of nominees that is presented to the Edison Best New Product Award judges.
picoSpin, LLC, Boulder, Colo., USA, was founded in 2010 by its Chairman, Charles E. Miller, together with a team of scientists and engineers. The mission of picoSpin is to develop, manufacture and market miniature NMR spectrometers. Mr. Miller is also Chairman of Instrutech, Inc, of Longmont, Colo, a manufacturer of vacuum instrumentation, and was formerly President of Engineering Measurements Corporation, also of Longmont, Colo., a manufacturer of fluid flow instrumentation. Please visit us: http://www.picospin.com
The 2011 Edison Awards are sponsored by The Nielsen Company, Discovery Channel, Science Channel, Spencer Trask and Bzz Agent. The Edison Awards are granted under the aegis of the Thomas A. Edison Papers at Rutgers University, a globally recognized research network dedicated to the study of innovation and its application in the 21st Century. For more information about the Edison Award finalists, please visit http://www.edisonawards.com.
# # #