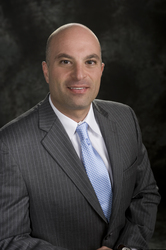 Los Angeles, CA (PRWEB) February 7, 2011
Pepperdine University's Graziadio School of Business and Management has appointed San Diego-based clean technology entrepreneur Adib Nasle to the new position of executive director of the Executive MBA and the Presidential and Key Executive MBA programs. He will oversee the Executive Programs at the business school, managing program operations and alumni relations, as well as implementing the programs' positioning and marketing strategies.
Mr. Nasle is the founder of the Green Age Group, a Microsoft sponsored company focused on developing high performance cloud computing web services, and Rich Internet Applications (RIA) for the Power and Energy engineering market.
"Adib brings invaluable experience as an accomplished business owner and Pepperdine graduate," said Dr. Gary Mangiofico, associate dean of Fully Employed and Executive Programs at the Graziadio School. "Working alongside students, faculty, alumni and program administrators, his leadership advances our commitment to delivering practical, experience-driven learning that empowers leaders and enables companies to grow exceptional talent."
The Graziadio School's Executive MBA program (http://bschool.pepperdine.edu/programs/executive-mba/) is a globally recognized program for managers advancing into senior levels of responsibility. Designed exclusively for C-Level executives and seasoned business owners, and the only MBA program of its kind, the Presidential and Key Executive MBA program (http://bschool.pepperdine.edu/programs/presidential-mba/) enables graduates to translate a lifetime of experience and knowledge into personal and professional capital that delivers lasting meaningful benefit for themselves and for their organization.
Prior to the Green Age Group, Mr. Nasle was co-founder, president and then chief strategy officer at EDSA where he helped pioneer computer applications in power engineering. He has nearly 20 years of experience in the development and successful commercialization of enterprise class power engineering software solutions and has worked closely with many world renown organizations in mission critical computer applications in power, including the University of California San Diego on their Smart Grid Demonstration project (RESCO) and with the Federal Aviation Administration on the development and deployment of first-of-a-kind predictive power monitoring technologies for the National Air Space (NAS) critical infrastructure.
Mr. Nasle was the 2010 keynote speaker on Green Investing at Morgan Stanley, has been published by the Washington Post, and is an expert in Smart Grid and Renewable Energy electrical power distribution systems. He is an inventor with over 24 patents issued or pending in the areas of real-time and predictive energy management, power system design, optimization, security, safety, reliability and capacity assessment.
Mr. Nasle has served as co-Chair of the San Diego Clean Technology SIG, and was a steering committee member of San Diego's Clean Technology Venture Roundtable. He is a Fellow of The Aspen Institute, member of IEEE, ACM and ASEE and currently serves on the Aspen Institute's Socrates Society Steering Committee.
Mr. Nasle studied corporate governance and finance and accounting at Stanford University's Graduate School of Business and Stanford Law School. He has a BA from Michigan State University and an MBA from Pepperdine University.
About the Graziadio School of Business and Management
Founded on the core values of integrity, stewardship, courage, and compassion, Pepperdine University's Graziadio (GRAT-ZEE-ah-DEE-oh) School of Business and Management has been developing values-centered leaders and advancing responsible business practice since 1969. Student-focused, experience-driven, and globally-oriented, the Graziadio School offers fully accredited MBA, Masters of Science, and bachelor's completion business programs. More information found at http://bschool.pepperdine.edu/newsroom/.
###