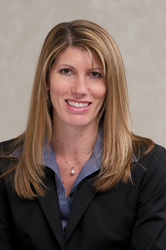 Los Angeles, CA (PRWEB) February 9, 2011
Pepperdine University's Graziadio School of Business and Management recently announced that Rachel Williams has been named director of Executive Education, effective January 3, 2011. In the role, she will focus on expanding the business school's portfolio of executive workshops and non-degree certificate programs by partnering with corporations and associations to develop custom education solutions.
"Ms. Williams' experience as an educator and an executive are valuable assets as the Graziadio School seeks to expand custom trainings that help an organization's business managers and executives to update their skills and knowledge while simultaneously addressing the organization's specific strategic goals," said Dr. Gary Mangiofico, associate dean of Fully Employed and Executive Programs.
Tailored executive education programs are developed and taught by business faculty members at Pepperdine University on a variety of topics including management, leadership, change management, finance, capital markets, entrepreneurship, strategy, driving innovation, international business and developing value based leaders. Some examples of past programs include Champions of Change, a nine-month certificate program for Boeing employees; an IT Essentials certificate program for a utility company; a one-week organizational development program for an international university, and a one-week mini-MBA program for foreign executives.
Ms. Williams is an adjunct professor of accounting for the Graziadio School of Business and Management where she teaches accounting in the MBA program. Prior to joining Pepperdine University, Williams worked for several large consulting firms where she developed new business geographies and practice areas. She also spent several years as a Chief Financial Officer for a successful Native American gaming tribe where she assisted the tribal council in developing policies, initiatives, and strategies, and oversaw the tribe's diverse portfolio of investments and businesses. Over her career, Williams has served as an expert witness, performed forensic accounting investigations, provided litigation support, and consulted in complex finance and accounting matters.
Williams holds a Bachelor of Arts in Political Science and a Masters in Business Administration from Baylor University. She is a Certified Public Accountant and a Certified Fraud Examiner, has presented at numerous conferences and published articles on finance and accounting topics.
About the Graziadio School of Business and Management
Founded on the core values of integrity, stewardship, courage, and compassion, Pepperdine University's Graziadio (GRAT-ZEE-ah-DEE-oh) School of Business and Management has been developing values-centered leaders and advancing responsible business practice since 1969. Student-focused, experience-driven, and globally-oriented, the Graziadio School offers fully accredited MBA, Masters of Science, and bachelor's completion business programs. More information found at http://bschool.pepperdine.edu/newsroom/.
# # #