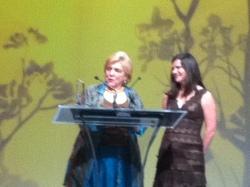 Receiving an Arts Awards is the most prestigious honor for outstanding achievement in retailing, manufacturing, sales representation and product design.
Hillsborough, NC (PRWEB) February 6, 2011
From a huge stage, glamorous industry stars announced the three Tabletop nominees with giant screens overhead running video clips about the companies. The envelope was opened amidst a hush. As VIETRI's name was read, spotlights beamed on CEO Susan Gravely and National Sales Manager Holli Draughn who floated, also beaming, to the stage to accept the award. Hundreds of sales reps, retailers, designers, manufacturers and other home décor executives applauded. It was just like Hollywood.
During the Arts Awards ceremony, Retailer winner, Stacey Ewing , owner of Colorado Villa Décor in Parker, thanked VIETRI for its contribution to her success. VIETRI's Villa-level, premier account, Bella Casa of Portland, Oregon was also an Arts Award recipient in the retailer category.
VIETRI distinguished itself by its Italian passion, artisan craftsmanship, product breadth, design, trend leadership, innovation and female management.
CEO Gravely thanked master Italian artisans, the best stores in the world to whom VIETRI sells, and consumers with equal passion for design, color, craft, history and creativity, who create, sell and collect VIETRI's "Irresistibly Italian" products. And, of course, thanks were given to the ARTS organization and its judges who support excellence in the home décor industry.
For more information and digital images: Ellen Thompson, VIETRI Marketing Coordinator, ethompson(at)vietri(dot)com, 919 732 5933 extension 101.
# # #