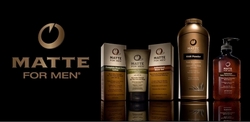 "We are excited to make this presentation part of our national launch event, where we will be introducing two truly innovative new products to the marketplace."
New York, NY (PRWEB) February 7, 2011
Lescoja Corporation, a leader in the premium men's skin care category, today announced that Sephora would be the recipient of the first ever "Matte For Men Retailer Of The Year Award." Introduced to recognize the retailer that does the best job supporting and growing the men's skin care category, the award will be presented in March at an event to be held at the Chihuly Gallery at Aria Resort in Las Vegas. "We are pleased to recognize Sephora for their support of the Matte For Men skin care line. As a result of our combined efforts, the Matte For Men line has experienced strong double-digit growth this past year, which is an incredible feat given the current economic climate." reports Lee Jacobs, President of Lescoja. "We are excited to make this presentation part of our national launch event, where we will be introducing two truly innovative new products to the marketplace."
As the first targeted anti-aging skin care solution developed with men in mind, MATTE FOR MEN FIXX ADVANCED REPAIR MOISTURIZER is formulated to be the simple and effective way to reduce and repair the effects of time and the environment on the skin. Used nightly, the peptide formula will noticeably reduce the signs of aging, help boost collagen production, and enhance skin's strength and firmness while improving hydration.
To compliment the award-winning MATTE FOR MEN COMPLETE FACE CARE LOTION 2.5 oz tube, a new 6.5 oz amber pump bottle will be introduced. As the only "all-in-one" lotion to contain antioxidant moisturization, sun protection and an anti-shine solution, this larger size was developed based on direct consumer feedback. "Our customers have been requesting a bigger size so that they have a convenient way to use our best-selling product everyday. Not only will the pump make our lotion even easier to use, it will also save our customers money on a per use basis" says Jacobs.
Both products will be available by May at many fine retailers, as well as on http://www.MatteForMen.com. "Our launch event is a great way to introduce these incredible new offerings and honour the retail partners that have supported us throughout our first 5 years in business" concluded Jacobs.
For further information, please contact Brooke Anderson at mediarelations(at)lescoja(dot)com.
About Lescoja
Lescoja Corporation is a leader in developing and marketing innovative men's grooming products that address specific consumer needs in a straight-forward and effective manner. Their product line includes the acclaimed Matte For Men Complete Face Care Lotion, as well as the award-winning Matte For Men Man Powder and Matte For Men Complete Cleansing Cloths. The Company is privately held and headquartered in Marana, Arizona.
###