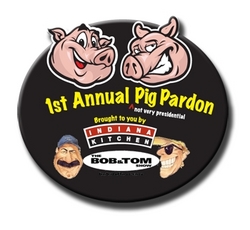 We couldn't think of a better way to kick it (Bacon Season) off than with Indiana Kitchen, and BaconLoversBacon.com"
Indianapolis, IN (PRWEB) February 7, 2011
Amnesty Signals Launch of Indiana Kitchen's BaconLoversBacon.com
In anticipation of the new BaconLoversBacon.com website, sponsored by Delphi's own Indiana Kitchen® brand bacon, the Bob & Tom Show has announced it will offer amnesty to two pigs on the morning of the site launch, February 9, 2011.
The event, officially tagged the 1st Annual (not so Presidential) Pig Pardon, will take place inside the Bob & Tom studios in Indianapolis, Indiana. The lucky pigs, coincidentally named Bob and Tom, will be on hand to field questions amidst the smell of frying Indiana Kitchen bacon. (They won't know.)
"Here, at the Bob & Tom Show, we're all fans of bacon, pork, ham, sausage and pigs, in general," exclaims Bob & Tom Show producer, Dean Metcalf. "With that, we're happy to declare Bacon Season is now officially open! And we couldn't think of a better way to kick it off than with Indiana Kitchen, BaconLoversBacon.com, and making this small gesture of goodwill toward a couple of the critters that make such a fine product."
In celebration of the 1st Annual Pig Pardon, Indiana Kitchen will offer commemorative t-shirts and other merchandise available for sale online at BaconLoversBacon.com.
Indiana Kitchen is a brand of Indiana Packers Corporation, a leading processor of fresh, premium pork products sourced almost exclusively from Midwest hog farms. For more information, contact: Indiana Packers Corporation, P.O. Box 318, Highway 421 South, County Road 100 North, Delphi, Indiana 46923, 765.564.3680, contact(at)inpac(dot)com
###