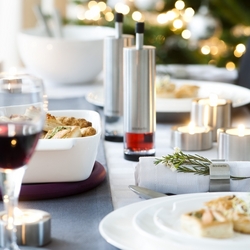 With three different color schemes, and a host of intelligently-designed, mix-and-matchable coordinating pieces, Brabantia's Get Together line is the next great home entertaining concept...
Woodcliff Lake, NJ (PRWEB) February 8, 2011
Brabantia, one of Europe's oldest and most respected designers and manufacturers of high end, high quality and intelligently designed home products, unveils a new line of contemporary tableware and home entertaining accessories in the U.S. Brabantia's new Get Together line includes a wide array of porcelain, stainless steel and tabletop items such as dinnerware, cutlery and serving pieces designed to add color, style and individuality to at-home get togethers.
Brabantia's Get Together line of products includes cups, bowls and plates, stainless steel and wooden serving pieces and accessories as well as colorful silicone coasters and trivets – all designed with elegance, simplicity and functionality in mind. Available in three easy to mix and match color schemes – white, grey and purple – Get Together creates stunning, customizable tablescapes that fit any style and any budget. Whether you buy the entire collection or just add key pieces to your existing tableware, Get Together adds sparkle and vibrance to any lifestyle. Pieces range in price from $2-$40.
"At Brabantia, we have a great enthusiasm for life, and understand the importance of sharing meals together among family and friends as a centerpiece of daily living," said Nicole Gnudi, Managing Director of Brabantia USA. "To make entertaining warmer and more fun, we created a line of functional, modern yet affordable items that are classic and timeless and which enable people to experiment by layering in our pieces with their existing pieces to create a personalized, signature look at home. With three different color schemes, and a host of intelligently-designed, mix-and-matchable coordinating pieces, Get Together is the next great home entertaining concept – from Brabantia, of course."
Porcelain
From dinner plates to breakfast bowls, cappuccino cups to tea mugs and even oven dishes and serving platters, there are 56 items from which to choose, and in colors that compliment any décor and palette. Get Together is perfect any time - a quick snack, a lazy Sunday brunch, or a special celebration, and your table will radiate warmth and elegance with your choice of coordinating colors, pieces and materials.
Cutlery
A sleek 24-piece brushed steel cutlery set joins our porcelain dinnerware, as does a selection of serving spoons, salad servers and a cake server. Cake forks, dessert spoons and teaspoons are also available – so have your friends over for dinner, coffee or dessert. Brabantia's got you covered.
Accessories
It's the little things that truly make a meal or an evening. And to make putting on the finishing touches easier and more stylish than ever, Brabantia has assembled a collection of 24 coordinating accessories. Stainless steel salt and pepper mills, napkin rings, candle holders and serving bowls, silicone drink coasters, heat resistant trivets, egg cups and even wooden party plates are available to match your style.
Layer It. Gift It. Love It.
Wonderful to give - and even better to receive - Get Together makes a much-appreciated present. Because all pieces are priced affordably and sold separately, by purchasing a few key pieces it is easier than ever to add a pop of color or a modern flair to your existing set of tableware - or collect the entire set to expand your entertaining horizons. Many items in the Get Together line also come pre-packaged for effortless gift-giving. Color-themed gift bags, tissue paper and felt gift shapes are also available to make it quick and easy to give the gift of entertaining.
Brabantia, a trusted name in Europe and now in America, has been producing quality, durable and timeless products for the home since 1919. Brabantia's design, materials and quality are unmatched as is our product guarantee. Get Together tableware comes with a two year guarantee, and cutlery and accessories with a five year guarantee.
About Brabantia
At Brabantia, the domestic items of tomorrow are what we are producing today. Our products are designed to retain their style and performance for decades. It's more than a guarantee. It's what drives the company. Brabantia products are available at fine retailers such as Williams-Sonoma, Crate and Barrel and Gracious Home, as well as The Container Store. With headquarters in The Netherlands and offices around the world, as well as a branch near Manhattan, Brabantia is rapidly becoming a market leader in the United States. For more information, visit http://www.brabantia.com.
# # #