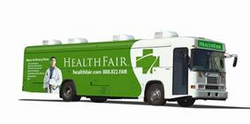 Winter Park, FL (PRWEB) February 6, 2011
HealthFair Partnering with Hospital Systems Nationwide to Address Prevention
HealthFair, the leading mobile cardiac health screening company, is teaming up with hospital systems such as Broward Health, Florida Hospital, Bayshore Medical Center, Clear Lake Regional Medical Center and Mainland Medical Center for American Heart Month. HealthFair will be powering life-saving heart health medical screenings throughout the country in support of American Heart Month.
Dr. Michael Chizner, Chief Medical Director of Broward Health's Heart Center of Excellence, says this new partnership allows the hospital to bring the latest advances in heart disease detection directly to the people that need it most.
"The truth is heart disease still remains our country's leading cause of death, no matter who you are or where you're from," says Chizner. "These screenings go beyond what a basic blood pressure and cholesterol screenings can tell you, and now you can get them right in your back yard. The screenings provide you with an opportunity to be proactive about your heart health like never before."
In addition to special programs like Broward Health's, HealthFair's distinctive green and white Heart Beat buses will be traveling nationwide, offering a seven-test cardiac health screening package to individuals for only $179. The Heart Disease, Stroke, and Aneurysm Prevention Package saves patients over $2,300 compared to having the tests done at a standard physician's office. Getting an electrocardiogram, stroke ultrasound and an abdominal aortic aneurysm test will now be as easy as getting on the bus.
American Heart Month is dedicated to raising awareness of cardiovascular disease. Most Americans know that heart disease is the leading cause of death in the United States, but few know that 80 million Americans have some form of heart disease. That is 36.5 % of all Americans. By 2030, approximately 116 million people in the United States will have cardiovascular disease in one form or another.
According to Dr. Robert Oristaglio, HealthFair's Chief Medical Officer, the first symptom for 50-60% of heart attack victims is the attack. Had they been tested, their disease might have been detected earlier.
In a study published in Circulation: Journal of the American Heart Association researchers estimate that the cost of treating cardiovascular disease will increase three fold over the next two decades from $273 billion to $818 billion between 2010 and 2030. "The fact that it would go up threefold over the course of 20 years was unexpected," says lead study author Dr. Paul Heidenreich. "We can take steps to reduce it, if we take steps to prevent cardiovascular disease."
HealthFair has found the answer to providing affordable ways of providing life-saving health assessments. The company brings company health screening services directly to the employer, heart disease screening to the individual or powers the preventative screenings for hospital systems
According to the National Stroke Association, 80% of strokes are preventable, and in a new study published in the Journal of the American College of Cardiology, a simple ultrasound scan of the carotid artery, part of the HealthFair package, has been shown to significantly improve the prediction of heart disease.
"HealthFair is preventive medicine at it's best," said Margot Hirsch, who learned that a blockage in her left carotid artery allowed only 5% of blood flow. Days later she had surgery, and has the simple ultrasound scan to thank for the detection. Cases like Hirsch's illustrate HealthFair's mission: to make advanced life-saving health tests affordable and accessible to everyone.
The latest research from the Center for Disease Control (CDC) estimates that 785,000 Americans are expected to have their first heart attack this year. HealthFair President Terry Diaz says the test and screenings offered aboard the HealthFair bus help reinforce that early detection saves lives.
"We've screened more than 500,000 people in the past 10 years, and were able to detect abnormalities in almost 25% of the people we tested," says Diaz. "The good news is that we can save lives with early detection and lifestyle changes."
For more information on HealthFair, visit http://www.healthfair.com or call 1-888-822-3247. To learn more about American Heart Month, visit http://www.heart.org.
# # #