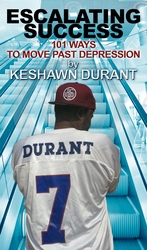 I am delighted that I now have the opportunity to speak to athletes or young people about their athletic careers. It is a must that they keep their options open & NEVER dedicate their entire lives to the game. A back-up plan is essential. - Keshawn Durant
Jacksonville, FL (PRWEB) February 5, 2011
Keshawn Durant was All-Region, All-City, All-Conference, and MVP throughout his athletic career while playing basketball, football, baseball, and track-n-field. He has penned his autobiography Escalating Success:101 Ways to Move Past Depression to be published in the spring of 2011 by Poinsettia Publications.

Language: English
ISBN-13: 978-0-615-44809-1
Publisher: Poinsettia Publications
Paperback
$19.99
The oldest brother of the NFL's Jacksonville Jaguar Justin Durant and the CFL's Saskatchewan Roughrider Darian Durant, Keshawn Durant stands tall after becoming injured and ill. After losing his football career due to his ailments, he suffered bouts of major depression; however, he has now found his way. He continues to escalate toward his true success. Escalating Success:101 Ways to Move Past Depression displays an accurate, intimate account of his life in this heart-wrenching and uplifting life story. Having endured all of the good and the bad that life has provided, Keshawn has no regrets and is sharing his love for sports and his love for life with the world. He has been featured on TSN and a variety of blogs and internet radio stations. He hosts a weekly teleseminar - covering topics such as depression, goal-setting, and athletics.
Escalating Success contains Keshawn's life story as well as the stories of several other athletes and how they too suffered from depression after being injured or becoming ill. Listen to how each family overcame the obstacles that are presented to them as athletes.
Expert commentary from top clinical and sports psychologist Tom Ferraro is also included. Dr. Tom Ferraro is a noted clinical psychologist who has treated professional and amateur athletes for the last 20 years. He has published in Europe, Asia, and the US on the subject of sports and the psychological makeup of the athlete. There is also licensed therapist Tom Kearns providing his insight into the NBA in the autobiography.
In addition to all of this, there are 101+ ways to naturally move past depression in our lives. Escalating Success can teach us all how to improve our lives and mental well-being.
Escalating Success will be available for pre-order on February 12, 2011. Join us on this pre-release date for a free, live teleseminar. Five lucky listeners will receive a free eBook version of Escalating Success: 101 Ways to Move Past Depression. Register at http://www.KeshawnDurant.com today as space is limited.
10% of all proceeds will be donated to charity. Assist us in giving back to abused children, the homeless, and the unemployed/underemployed.
###