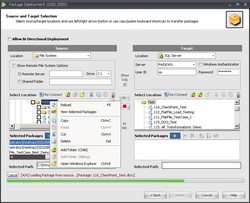 Jacksonville, FL (PRWEB) February 6, 2011
Pragmatic Works premiered the latest edition of BI xPress, version 3.0, on February 2nd during a launch even attended by more than 500 BI developers. Faster, easier, and more intuitive, BI xPress 3.0 dramatically improves the way business intelligence development and administration is done. With BI xPress, users can visually diagnose Integration Services (SSIS) production problems and develop BI solutions in seconds, not days.
"At Eastman Chemical we required the creation of 70 SSIS packages to load staging tables, an effort that we estimated would take a few days to accomplish with our most senior SSIS developers. Using BI xPress™ and it's Package Builder™ feature we were able to create all 70 packages in under 2 hours, roughly 2 minutes per package. At $795 BI xPress paid for itself in less than one day, and the team at Pragmatic Works saved us a great deal of time and effort," Lee Patsel, Supervisor, Business Intelligence Solutions Team, Eastman Chemical Company
Founder and CEO Brian Knight presented at the launch event. With the dramatic improvements BI xPress offers, Knight's goal of democratizing Business Intelligence for all users has come to fruition.
"If you're new to SSIS, you know how difficult it is to ramp up. If you're an expert at SSIS, you want to code faster and focus on the problem you're trying to solve and less on the mundane coding aspects," explains Knight. "Having built SSIS packages since the early days of SSIS, I wanted to find a way to democratize this to where anyone could build SSIS packages and SSAS cubes with little or no experience, and with BI xPress this is easy to do."
About BI xPress 3.0
BI xPress 3.0 helps developers and DBA's working within the Microsoft Business Intelligence platform develop and manage their SSIS and SSAS environments with ease. To learn more or trial BI xPress 3.0 for free, please visit : http://pragmaticworks.com/Products/Business-Intelligence/BIxPress/Overview.aspx
About Pragmatic Works
Pragmatic Works provides training, tools, and implementation services on the Microsoft business intelligence platform. Whether you are just getting started, or need full scale BI projects, Pragmatic Works is your source for SQL Server SSIS, SSAS, SSRS, and SharePoint.
Pragmatic Works is a privately held technology company headquartered in Jacksonville, FL with sales offices near Boston, MA and a technology center in Atlanta, GA.
###