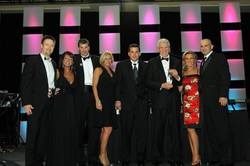 We're extremely proud of this high ranking
Minneapolis, MN (PRWEB) February 5, 2011
As current boaters and prospects gain confidence in exploring purchase decisions, it is increasingly vital that they are directed to trustworthy and professional dealers for boat sales and service. Port Harbor Marine, headquartered in South Portland, Maine, along with 4 other locations in Kittery, Raymond, Rockport and Holden, ranked 6th on the Boating Industry top 100 list, which recognizes the best-of- the-best of the more than 3,000 marine dealers in North America.
"We're extremely proud of this high ranking," said Rob Soucy, President of Port Harbor Marine, "It reflects the hard work that we've put in each year, as well as the quality of our crew and customers."
The Top 100 marine dealer ranking has resulted in an incredibly powerful group that collectively generates more than $879 million in annual retail sales – and $1.56 billion, if you include the two members of the Top 100 Dealers Hall of Fame. This makes up 2.9 and 5.1 percent of the overall U.S. boating market, respectively.
Since its founding, Port Harbor Marine has remained committed to customer service and family values and has grown steadily to become one of the largest marine dealer facilities in the Northeast. Port Harbor Marine has made the Boating Industry Top 100 all six years of the list's existence, last year ranking an impressive 12th place.
"We couldn't do it without our customers," added Soucy, "They push us to do better and improve each year. The same goes for our hard working and dedicated crewmembers who deliver on our mission every day."
To learn more about Port Harbor Marine and boat services in Maine, visit our website or call 866-789-2656.
To see the complete ranking of the Top 100 dealers, visit http://www.Boating-Industry.com.
###