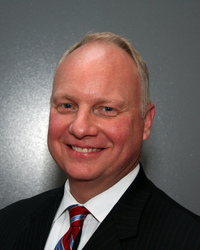 The SCOPIX portfolio of solutions is critical to retailers who want to deliver the highest levels of customer service, drive customer loyalty, and increase their leadership position."
Burlingame, CA (PRWEB) February 7, 2011
SCOPIX today announced the appointment of Verlin P. Youd as Senior Vice President Sales and Marketing effective immediately February 1. Youd will drive SCOPIX's market growth initiatives, building on strong momentum, marquis customers, and leadership position in retail in-store video analytics.
Youd, who will report to Luis Vera, CEO, is a seasoned industry executive who brings 20 years of experience in developing, delivering and managing retail solutions. He has held a variety of retail industry executive and management positions at SAP, Motorola, Symbol Technologies, IBM and Systech Retail Systems, Inc., with roles in development, product management, marketing, sales, channels, international business and portfolio management. Most recently he served as SAP's Senior Vice President of Global Trade Sector, responsible for SAP's success in retail, wholesale, and transportation & logistics globally.
"I am pleased to have a world-class, retail committed executive with proven experience to drive our market leadership efforts as SCOPIX moves to the next stage," said Vera. "Youd's in-depth experience across the retail solution value chain will be vital in implementing the SCOPIX strategic vision. He will play a key role as both sales & marketing leader and as a member of the senior executive team who are all committed to delivering compelling value to today's retail leaders."
Youd will direct SCOPIX's efforts in all aspects of the marketplace including sales, marketing, channels, and alliances. He will help the Company promote high value video analytic solutions that provide immediate returns to today's retailers through increased sales, efficient operations, and resulting profits.
"I am excited to be part of the SCOPIX team at this critical time for both the retail market and for the company," said Youd. "Customer service is a cornerstone of Retail and SCOPIX is focused on that cornerstone. The SCOPIX portfolio of solutions are critical to retailers who want to deliver the highest levels of customer service, drive customer loyalty, and increase their leadership position."
Youd, holds a bachelor's of science degree in finance from The Marriott School of Management at Brigham Young University and a master's of business administration degree from the Kenan-Flagler School of Business at The University of North Carolina at Chapel Hill.
About SCOPIX
SCOPIX Solutions (SCOPIX) is the market leader in The New Metric ™– Customer Service. SCOPIX provides solutions based on in-store video analytics to drive customer engagement, customer service, in-stock position, and promotional effectiveness. The SCOPIX suite of solutions are delivered via software-as-a-service and in "the cloud", ensuring efficient implementation and immediate results. Retailers using the SCOPIX solutions are realizing dramatic revenue and profit increases through application of The New Metric ™. To learn more about SCOPIX visit http://www.scopixsolutions.com.
###