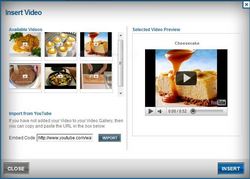 With video email becoming a strong selling tool for small businesses, online marketers and more, making it easy to add videos to email not only saves time, but eliminates the hassle of working with HTML code
Los Alamitos, CA (PRWEB) February 8, 2011
Benchmark Email, an award-winning, global email marketing company, now offers an easy and fast way to embed YouTube videos in emails. The new feature, free with any Benchmark email package, lets customers immediately embed YouTube videos into their emails and newsletters by simply pasting a video's URL into a template. Benchmark offers complete, Web-based video email with all email marketing plans.
"With video email becoming a strong selling tool for brick & mortar businesses, ecommerce merchants, online marketers and more, making it easy to add videos to emails not only saves time, but it eliminates the hassle of working with HTML code," says Curt Keller, CEO of Benchmark Email, one of the world's leading email marketing solutions. "Now, if you have instructional, testimonial or sales-focused videos up on YouTube, all you need to do is copy the video's link, paste that link into your template, and your video email is ready to go."
Benchmark Email was the first major email marketing company to offer video email as a free component of the service's standard plans, and the new tool was created for both new and veteran videomail users. The video email feature is also available with Benchmark's free email marketing plans, where customers get all of the company's standard features free of cost. Benchmark Email provides the tools to manage lists and create, edit, send and track email campaigns, with all-inclusive paid plans starting at $9.95 a month.
About Benchmark Email
Benchmark Email is an award-winning, international self and full service email marketing solution used by thousands of small, medium and large-sized businesses. As one of the fastest-growing, US-based email marketing companies, Benchmark currently offers Web-based service to German, Spanish, Japanese and Chinese-speaking clients. The company plans to expand into other markets over the next few years.
###