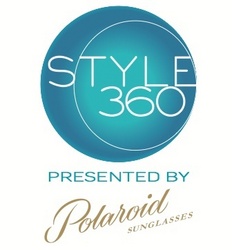 "We're excited to welcome the generous partnerships of this seasons sponsors which allows us to continue our push in providing a turn-key fashion tent pole to New York Fashion Week and bring a fresh energy each season"- Executive Producer, David Manning
New York, NY (PRWEB) February 8, 2011
A-List Communications and Hachette Filipacchi Media U.S. (HFM U.S.) announce the fashion show and designer line up for their semi-annual New York Fashion Week STYLE360 showcase as well as celebrate new presenting sponsor and partner, Polaroid Sunglasses (polaroid-eyewearstore.com) who will be launching the unique Best Under the Sun Collection, featuring some of the most coveted styles from the 30's-80's. in addition to other generous sponsors supporting the nine year fashion platform.
For this ninth consecutive year and 11th season showing, STYLE360 presented by Polaroid Sunglasses fashion events will run February 15 – 17th, 2011. STYLE360 presented by Polaroid Sunglasses consistently attracts national and international media, buyers, industry tastemakers, celebrities and society's elite and will once again stand apart as one of the most unique, must-attend experiences during New York City Fashion Week through a series of high profile fashion shows, musical performances and celebrity hosted after-parties for veteran designers and emerging talent alike. In addition, STYLE360 presented by Polaroid Sunglasses will also break down the typical closed door attendance to fashion industry leaders and make all the fashion shows viewable to a global audience via HD live streaming at http://www.ELLE.com/STYLE360 as well as offer a 360 degree viewing camera.
Kicking off the February season will be a high-energy fashion show by New York designer BOY MEETS GIRL® by Stacy Igel, highlighted by a special performance by musical star Natasha Bedingfield. Bedingfield will unveil her new single "WEIGHTLESS" from her highly anticipated album "STRIP ME" and host the Boy Meets Girl® by Stacy Igel after-party at NYC hot spot, AVENUE. Following in the fashion schedule the next day will be the identical twin celebrity fashion designer duo SACHIKA, who's show themed "The Awakening of a Swan" will open with a special live performance from Grammy Nominated Def Jam Recording Artist Karina Pasian and close with international recording artist Kat Deluna belting out the new single, "Dancing Tonight" from her upcoming album "INSIDE OUT".
Showing for the third consecutive season in New York City will be global fashion power house bebe, featuring its bebeBLACK runway collection designed by founder Manny Mashouf and styled by Oscar-nominated costume designer, Arianne Phillips. The show will feature a set by famed DJ Mia Moretti and electric violinist Caitlin Moe. TV personality, entrepreneur, fashion designer, and stylist INDASHIO will end the day with an evening fashion spectacle presented by sponsor Trident Vitality. Leading up to the show, INDASHIO and ELLEgirl Model Search will host a nationwide model contest and give three finalists an opportunity of a lifetime to walk at the New York Fashion Week show with the ELLEgirl Model search winner announced online by fashion icon and celebrity, Kim Kardashian. Contestants can find more information, or apply, by visiting http://modelingtherightway.com/.
Kicking off the final day of shows on February 17th is Project Runway alum, Malan Breton, who will again host his always artistic and dramatic runway show with a special twist. The Malan Breton Collection Fall 2011 fashion show will be presented as a theatrical love story featuring Breton's dear friends, supermodel Irina Pantaeva and Baron and premiere Oui for Mattison Network. EMU Australia will follow with its first New York City runway show presenting new looks to style and keep New Yorkers warm during this record high snow-filled winter.. The February 2011 fashion schedule concludes with a special finale fashion show and after-party presented by Polaroid Sunglasses, for rockers and designers Nikki Lund and Bon Jovi guitarist Richie Sambora for their line WTB Clothing. Richie Sambora will be flying in from the Bon Jovi world tour to unveil their New York Fashion Week debut with special appearances and surprises to be announced.
Tuesday, February 15th
7pm: Boy Meets Girl® by Stacy Igel
8:30pm – 11pm: Boy Meets Girl® by Stacy Igel After Party at AVENUE NYC Hosted by Natasha Bedingfield
Wednesday, February 16th
12:30pm: SACHIKA
5pm: bebe presents bebe Black Collection
8:30pm: Indashio presented by Trident Vitality
Thursday February 17h
10am: Malan Breton Collection
2pm: EMU Australia
6:30pm: WTB by Richie Sambora & Nikki Lund presented by Polaroid Sunglasses
8:30pm-11pm: WTB Official After Party presented by Polaroid Sunglasses at AVENUE NYC
All fashion shows will take place at the Metropolitan Pavilion South located at 125 W. 18th Street. AVENUE nightclub on 116 Tenth Avenue (http://www.avenue-newyork.com) will serve as the official nightclub partner for all after-parties and parties and AKA (http://www. stayaka.com), collection of luxury extended-stay hotel residences, will be the official hospitality partner providing celebrity and fashion designers with luxury accommodations.
New this season is supporting sponsor ABSOLUT® VODKA (http://www.absolut.com), who will serve as the official vodka partner of STYLE360 and serve an array of fashionable cocktails.. Backstage styling will be hosted for all fashion shows courtesy of MAKE UP FORVER (http://www.facebook.com/MAKEUPFOREVERUSA) and Babyliss Pro (http://www.babylissus.com). Additionally, STYLE360 welcomes BMW (http://www.bmw.com) as its official automobile sponsor, who will be offering complimentary transportation in the 2011 X3's to transport fashion editors, and celebrities to the STYLE360 shows, and red carpet after parties. New Trident Vitality gum (http://www.tridentgum.com), which adds a little piece of style to your day with vitamin C, ginseng or white tea infused into each delicious piece, is also welcomed this season with a special integration in the Indashio fashion show including a Trident Vitality inspired couture gown designed by Indashio. Monster Energy (ww.monsterenergy.com) will also return as a sponsor to promote its new energy drink Monster Java, a premium coffee and cream beverage, brewed up with killer flavor, supercharged with Monster energy-blend.
Photo and editorial support will be provided by longtime affiliate partner ELLE Magazine (http://www.elle.com), and new media partner, The New York Post (http://www.nypost.com).
"We're excited to welcome the generous partnerships of this seasons sponsors which allows us to continue our push in providing a turn-key fashion tent pole to New York Fashion Week and bring a fresh energy to New York Fashion Week each season," states Executive Producer, David Manning, President of A-List Communications.
Al Silvestri, Vice President of Integrated Marketing & Creative Services for HFM U.S., adds, "STYLE360 is constantly adapting to the needs of designers and sponsors. Our ability to provide a unique and fully turn-key fashion program and experiential event platform, while reaching millions of consumers via nationwide media and promotion, guarantees STYLE360 is a measurable and undeniable success for all involved."
Complete information on the designers, program schedule and sponsors can be found at the official website, http://www.elle.com/STYLE360. A list of celebrity models and attendees will also be announced closer to the event dates.
About Hachette Filipacchi Media U.S
Hachette Filipacchi Media U.S. (HFM U.S.) serves consumers' passions and lifestyles through trusted, expert content that entertains and inspires on all media platforms. Illustrated with extraordinary images, these engaging editorial environments combine with highly-targeted demographics and scale to create rich opportunities for our advertisers. Our prestigious brands fall into five sectors: Fashion & Beauty (ELLE, ELLEgirl); Luxury Design ELLE DÉCOR, and ELLEDecor.com; Women & Wellness (Woman's Day, Woman's Day Special Interest Publications); Automotive (Car and Driver and Road & Track as part of Jumpstart Automotive Group) and Motorcycling (Cycle World). HFM U.S. is part of Lagardère's (http://www.lagardere.com) media division Lagardère Active, a producer of special-interest content in more than 40 countries. (http://www.hfmus.com/hfmus/who_we_are/hfm_u_s)
About A-List Communications LLC
A-List Communications (http://www.a-listcommuniations.com) is a full-service consulting, special events & communications agency with offices in Los Angeles, Dallas and New York City. With over 15 years of global agency experience, A-List Communications specializes in connecting corporate brands with results-driven communication strategies, and globally recognized celebrities that elevate their clients to the A-List. Core to A-List Communications success is delivering "Brand Integration" services across a portfolio of propriety branded entertainment programs including "Fashion Week STYLE30," "Supper Series" and "The Art & Cinema Centre."
About Polaroid Sunglasses
Polaroid Sunglasses is a world leader in optics and lens technology, manufacturing high quality polarizing lenses and distributing fashionable polarized sunglasses, optical frames, Reading glasses, Clip-Ons, premium circular polarized 3D glasses and licensed sunglass brands around the world. Polaroid Sunglasses has a worldwide exclusive license for the Polaroid brand with PLR IP Holdings, LLC, the owner of the Polaroid brand. Demand for polarizing eyewear is rising steadily as more and more consumers come to realize the benefits of glare-free vision. Polaroid Sunglasses has offices in the US, UK, Switzerland, Italy, Sweden, Russia, China and the Netherlands, as well as a comprehensive network of distribution partners around the globe. For more information: http://www.polaroid-eyewearstore.com to see our unique Best Under The Sun collection visit: http://www.Polaroidsunglasses1937.com Follow us on Facebook (http://www.facebook.com/PolaroidSunglasses) and Twitter (http://twitter.com/PolaroidSun_US)
About BMW of North America
BMW of North America, LLC has been present in the United States since 1975. Rolls- Royce Motor Cars NA, LLC began distributing vehicles in 2003. The BMW Group in the United States has grown to include marketing, sales, and financial service organizations for the BMW brand, the MINI brand, and the Rolls-Royce brand of Motor Cars; DesignworksUSA, an industrial design firm in California; a technology office in Silicon Valley and various other operations throughout the country. BMW Manufacturing Co., LLC in South Carolina is part of BMW Group's global manufacturing network and is the exclusive manufacturing plant for all Z4 models and X5 Sports Activity Vehicles and the upcoming X6 Sport Activity Coupe. The BMW Group sales organization is represented in the U.S. through networks of 338 BMW passenger car centers, 335 BMW Sports Activity Vehicle centers, 142 BMW motorcycle retailers, 82 MINI passenger car dealers, and 30 Rolls- Royce Motor Car dealers. BMW (US) Holding Corp., the BMW Group's sales headquarters for North, Central and South America, is located in Woodcliff Lake, New Jersey. Information about BMW Group products is available to consumers via the Internet at: http://www.bmwgroupna.com; http://www.bmwusa.com; http://www.bmwmotorradusa.com; http://www.miniusa.com
About the New York Post
The New York Post, founded by Alexander Hamilton in 1801, is the oldest continuously published daily newspaper in the United States. The Post is available in print; online at NYPOST.com and via iPad and iPhone applications. The Post gives readers a unique and lively mix of local and national news, Page Six, Best Sports in Town plus entertainment and business coverage. News Corporation, one of the world's largest media conglomerates, owns the New York Post.
About Trident® Sugar-Free Gum
Trident gum has long been a pioneer in providing oral health benefits to consumers. Trident was the first gum brand of its kind to undergo extensive long-term clinical testing in 1967 with studies showing that people who chewed Trident experienced significantly fewer cavities. Trident Vitality, the newest addition to the Trident Family, is offered in 3 feel good flavors: Rejuve, Awaken, and Vigorate. Trident Vitality is an inspired blend of citrus, strawberry with vitamin C; a cool blend of mint with white tea; and a fresh blend peppermint with ginseng. Today, Trident is the best selling chewing gum and sugar free gum in the world and a recent study shows that the brand continues to be recommended by four out of five dentists who would recommend sugar-free gum to their patients who chew gum.
About MAKE UP FOREVER
In 1984, Paris native Dany Sanz responded to the wishes of the fashion and entertainment industries by creating MAKE UP FOR EVER. MAKE UP FOR EVER brought to life products, textures, and colors previously only dreamed of. Dany Sanz, an artist and sculptor, succeeded in putting together an extensive palette, allowing make up artists to unleash their imagination and bring the fashion and theater world to new heights. Keeping in mind the fast-paced nature of backstage, the products are easy to use and long lasting, two benefits that are a necessity not only to make up artists but to women everywhere. From the most delicate look to the most powerful statement, welcome to the world of MAKE UP FOR EVER.
Shop from our full line of 1,200 exceptional products at the new MAKE UP FOR EVER Boutique & Studios at Sephora, located in Soho, NY, Las Vegas, NV (The Venetian) and Costa Mesa, CA (South Coast Plaza).
About Babyliss Pro
Babyliss was founded in France almost a half century ago. The Babyliss name is synonymous with high-quality professional cosmetologist and barber tools worldwide. As a matter of fact, in Europe the curling iron is referred to as a "Babyliss" Conair, the world leader in consumer hair products, acquired BaByliss in 1995 and immediately expanded the Babyliss brand and professional heritage into the North American market, while staying focused on the continued growth of the prestigious brand worldwide.
BaByliss Pro is always at the forefront of developing new, innovative products, as well as researching and implement¬ing new technologies. The latest is the introduction of the first professional luxury hair dryer driven by an engine developed in collaboration with the Ferrari Challenge Team. The BaByliss®PRO Volare™ Dryers were launched globally in Bologna, Italy, at the April 2010 Cosmo professional show. BaByliss Pro offers several lines of superior professional styling tools, including dryers, straight¬eners, curling irons, trimmers, and clippers, with top-of-the-line brands such as BaByliss®PRO Nano Titanium™, TT®, Diamond Titanium™, Porcelain Ceramic™, Forfex® and Ceramic Tools™. State-of-the-art technology, quality and design are the hallmarks of this world leader in professional hair care products. BaByliss Pro empowers stylists by creating the ultimate tools of the trade. http://www.babylissus.com / http://www.stylesource.com
About AKA Hotels
AKA, a division of Korman Communities, is an innovative, new and growing collection of flexible-stay distinctive residences in prime urban locations. Currently AKA properties are in: New York City (4); Philadelphia, Washington, D.C., White Plains, NY, and Arlington, VA. Across the brand, architecturally inspired spacious accommodations, which range from studios to two-bedroom penthouse suites, offer the privacy of contemporary apartments infused with hotel services. While each property is unique and has distinct guest offerings, all feature the AKA brand standards and amenities of: fitness centers; full-service business centers with meetings space and complimentary high-speed Internet access; en-suite dining; same-day, valet dry-cleaning and laundry service; 24-hour front desk assistance; dedicated doormen, concierge services and full-time, on-site management and maintenance. All suites include top-of the-line kitchens, contemporary furnishings, luxurious bathrooms, meticulous housekeeping; extended digital cable with HBO, DVD players, and complimentary Wi-Fi access. Personalized service is a hallmark of AKA. For additional information, please visit http://www.hotelaka.com or call (866) AKA-9999. To keep up with the latest news at AKA, check out the brand on Twitter and Facebook .
About Pernod Ricard USA®
Pernod Ricard USA is the premium spirits and wine company in the U.S., and the largest subsidiary of Paris, France-based Pernod Ricard SA. In July, 2008, Pernod Ricard completed the acquisition of the iconic ABSOLUT® Vodka brand from the V&S Group, and Pernod Ricard USA is now the second-leading company in the U.S. by sales value.
In addition to ABSOLUT®, Pernod Ricard USA's leading brands include such prestigious spirits as The Glenlivet® Single Malt Scotch Whisky, Chivas Regal® Scotch Whisky, Jameson® Irish Whiskey, Seagram's Extra Dry Gin®, Beefeater® Gin, Plymouth™ Gin, Martell® Cognac, Malibu®, Kahlúa® Liqueur, Hiram Walker® Liqueurs, Pernod® and Ricard®; such superior wines as Jacob's Creek® and Brancott Estate®; and such exquisite champagnes and sparkling wines as Perrier Jouët® Champagne, G.H. Mumm™ Champagne and Mumm Napa® sparkling wines.
The company is based in Purchase, New York, and has roughly 1,000 employees across the country. Pernod Ricard USA urges all adults to consume its products responsibly and has an active campaign to promote responsible drinking. For more information on this, please visit: http://www.acceptresponsibility.org.
###