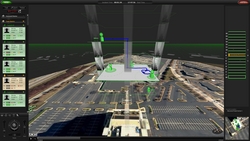 Greenbelt, MD (PRWEB) February 9, 2011
TRX Systems Inc., developer of precise personnel location systems, today announced that the Defense Advanced Research Projects Agency (DARPA) has awarded the company $750,000 to optimize and extend its TRX Sentrix System for navigation in rugged, natural and man-made, subsurface environments.
Operating in GPS-denied environments both above ground and underground, the system will track dismounted soldiers and public safety personnel conducting their duties in canyons, caves, mines and tunnels. The DARPA program will support testing and optimization that enables TRX to enhance the navigation accuracy of the system in such subsurface environments. The funding will also enable the Sentrix Personnel Navigation System and its sensors to be easily integrated into existing systems with sensors already in place.
Mission Critical
The ability to track personnel and help them navigate in unfamiliar subsurface environments is imperative to the success of modern-day warfare. Foot-mounted soldiers are increasingly tasked with conducting operations in complex urban and remote, cavernous environments where GPS signals are corrupted or unavailable. Without reliable position information, many modern combat systems, capabilities and tactics cannot be used. TRX Sentrix can provide these systems the location and positioning data required. The TRX Sentrix GPS-denied algorithms can also be practically applied to virtually any system supporting indoor navigation including navigation within subways, garages, and other underground environments.
About TRX Systems Inc.
TRX Systems Inc. develops precise, personnel tracking products that deliver real-time 3D location and status of personnel in environments without reliable GPS coverage. The TRX solution is especially well suited for tracking personnel within environments that are not under the control of the organization monitoring the personnel, where installation of infrastructure is infeasible or expensive, and within locations that are susceptible to disasters that would impact fixed infrastructure. TRX's Navigation Engine software can easily be integrated with third party sensors, communication systems, and situation awareness systems that require GPS-denied location capabilities. For more information visit trxsystems.com.
DOD Distribution Statement: Approved for public release; distribution is unlimited.
# # #