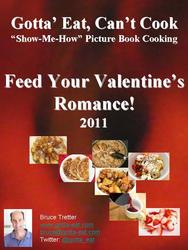 Gotta' Eat, Can't Cook helps new cooks make a stress-free meal on their own through uniquely practical picture book cooking.
Boston, MA (PRWEB) February 6, 2011
Gotta' Eat, Can't Cook (http://www.gotta-eat.com) has just published Feed Your Valentine's Romance 2011 now available through Amazon.com and other popular EBook distribution sites.
Feed Your Valentine's Romance 2011 is a first of its kind Valentine's breakfast and dinner EBook complete with a meal timing guide and step-by-step picture book directions specifically designed to make meal preparation as easy and stress-free as possible. Recipes include: Simple Crepes; Fresh Whipped Cream; Apple Pancake (definitely not a flapjack); Chicken in Light Mushroom & Dried Cranberry Cream Sauce (made with evaporated milk, not heavy cream); Oven Roasted Carrots & Potatoes; Baby Bell Pepper, Avocado, Sun Dried Tomato & Olive Salad; Crepes with Nutella, Strawberries, Banana & Whipped Cream; and Glow Wine.
Gotta' Eat, Can't Cook was founded in 2008 by Bruce Tretter, a writer/photographer father of three, who helps new cooks feel comfortable making meals for themselves through step-by-step picture book cooking, weekly radio broadcasts and short videos. "I'm on a mission to help people get started in the kitchen as easily and with as little stress as possible by showing them how to make mainstream meals like eggs, chicken and salads through step-by-step picture book directions. I've researched cookbooks for decades and have found none that provide real foundational help to new cooks like I was 30 years ago in a direct, practical and immediately accessible format. Providing that help with "what you see is what you'll get" photographs, plain English directions and doing it cost-effectively, especially in today's economy, is exactly what Gotta' Eat, Can't Cook: "Show Me How" Picture Book Cooking is all about."
# # #