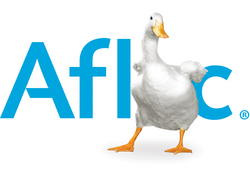 We worked very carefully to maintain the Duck's legendary equity, says Louey
Santa Monica, CA (PRWEB) February 7, 2011
Advertising icon undergoes carefully orchestrated makeover by award-winning firm
How does an advertising icon like the Aflac Duck celebrate its tenth Birthday? With a refreshing renewal of its public image by award-winning brand identity design firm Robert Louey Design/Pagenova. A year in the making, the gentle makeover of the beloved duck includes new color palettes, collateral materials and graphic environments.
"We worked very carefully to maintain the Duck's legendary equity. Each aspect of the new design was carefully orchestrated around the main image of the beloved Duck," says Robert Louey.
A photo shoot captured the Aflac celebrity in profile, poised, in flight and aflutter to enrich the design possibilities. A wide array of graphic environments — some with famous quotations, others with simple memorable commands ("That Way") — were then created for the year-long rollout worthy of a duck.
Other elements include a new Aflac stationery system, a refreshed assortment of brochures, business-to-business outreach materials and internal branding messaging that makes further use of the color palettes and graphic environments devised by the Santa Monica based firm.
Louey also designed the visual components for Aflac's annual end-of-year FOCUS conference, where top sales people are recognized and regaled. The Nashville event utilized the rebranding designs and banners and as well as short films displayed on a 360-degree screen to introduce the company's new goals for 2011.
The 10th birthday celebration makeover was conducted under the leadership and guidance of President Paul Amos II and CMO Michael Zuna.
Robert Louey Design and Karen Dacus/Pagenova collaborates with Regina Rubino / IMAGE: Global Vision. Through the years they have won over 300 international communication arts awards while offering Fortune 500 companies and other major entities assistance in creating identity systems that solve complex communications challenges.
Their client list includes Hyatt Hotels & Resorts, The Beverly Hills Hotel, Kaufman and Broad, Beijing Yintai Property Company, Ltd., Mori Building Co. Ltd. and Aflac.
About Robert Louey Design / Karen Dacus/Pagenova / Regina Rubino/ IMAGE: Global Vision:
Information Contact:
Phone (310) 396-7724
Fax (310) 396-1686
E-mail: reginarubino(at)imageglobalvision(dot)com
# # #