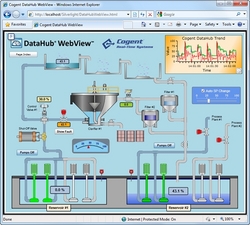 "Plant personnel and managers now have a convenient and secure way to display and access their real-time data on the web," said Andrew Thomas, President of Cogent Real-Time Systems.
(PRWEB) February 8, 2011
Cogent Real-Time Systems announces the release of DataHub® WebView, a Silverlight application that allows users to build web-based HMI solutions for real-time data visualization and control. All page editing is done in a standard web browser, such as Internet Explorer, and updates can be automatically published as soon as changes are saved. Page designers have access to a wide range of controls, gauges, and 4,000 industry-standard symbols.
"Plant personnel and managers now have a convenient and secure way to display and access their real-time data on the web," said Andrew Thomas, President of Cogent Real-Time Systems. "DataHub WebView combines the data connectivity and integration power of the Cogent DataHub with an all-new web interface to give automation professionals what they need--quick, reliable, and useful access to their process data."
A live, public demonstration of DataHub WebView is accessible online from a cloud-based server at Amazon.com. This implementation allows visitors to view and interact with pages of piping systems, data plots, alarm indicators, and gauges--all updated in real time.
"DataHub WebView is built on the Microsoft Silverlight development platform, enabling stunning graphics and engaging interactive applications," said Ken Collins, Lead Developer on the DataHub WebView project. "Powered by the Cogent DataHub, it can display highly accurate, quick-moving gauges, trends, and other animated controls in a web page that can respond to data updates in milliseconds. Each control in DataHub WebView features powerful, "anything-to-anything" binding, which means any property of any control can be bound to data in the Cogent DataHub, or to any other control."
Its tight integration with the Cogent DataHub provides DataHub WebView with quick, reliable, and secure access to valuable information direct from industrial processes, embedded equipment, or financial data feeds. As these systems often demand tight security, DataHub WebView implements user authentication and authorization, providing fine-grained control over each aspect of the system. Users can be given access according to their needs, from viewing a page, to entering data, to editing pages, to designing and implementing whole projects.
DataHub WebView controls leverage XML and XAML, which provide an important infrastructure for configuration and customization. The next major release will enable users to import their own Silverlight controls. This flexibility and extensibility offer strong potential for organizations that are serious about their HMI systems.
"We have broken a lot of new ground with this first release of DataHub WebView," said Collins, "and we are committed to continually enhancing our solution with new features, custom controls, and state-of-the-art data integration."
DataHub WebView and the Cogent DataHub are developed and maintained by Cogent Real-Time Systems. Founded in 1995, Cogent provides versatile and reliable middleware products to enable real-time data integration and access for industrial, embedded, and financial systems. Customers include Siemens, ABB, Honeywell, IBM, GE, Statoil, Goodyear, BASF, Cadbury Chocolate, and the Bank of Canada. Cogent DataHub and DataHub WebView are either registered trademarks or trademarks of Cogent Real-Time Systems Inc. in Canada, the United States, and other countries.
# # #