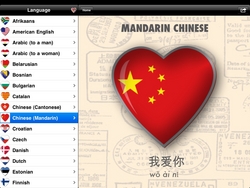 This 99¢ app features over 50 languages, sends e-Valentines and audio via email and social media
Princeton, NJ (PRWEB) February 7, 2011
Looking for a creative way to charm your Valentine without breaking the bank? Learn how to say "I Love You" in over 50 different languages with Lingolook Publishing's "ILoveYou" app, available in the Travel category of iTunes App Store for 99¢.
This iPad / iPhone app features over 50 translations of "I Love You!" from Afrikaans to Zulu, recorded by native speakers with expert translations, each displayed on a digital flashcard.
Users can email their Valentine any of the 50+ individual flashcards that display a heart-shaped flag from the country of origin. Also included in the email is the foreign language audio file – so Valentines can convey their sentiments in an exotic new tongue! With social media sharing, users can post an international "I Love You" card to Facebook or send a Tweet about their favorite foreign language.
Lingolook's "ILoveYou in 50 Languages" App features:
♥ Audio translations of "I Love You" in over 50 languages
♥ Direct email of flashcards and audio files (e-Valentines)
♥ Social media sharing on Facebook and Twitter
♥ Recordings by native speakers
♥ Fast language search via index
♥ Convenient "Favorites" menu
♥ Instant audio replay
Lingolook's "I Love You in 50 Languages" and additional foreign language applications can be found in the Travel category of iTunes Apps Store.
About Lingolook Publishing
Princeton, New Jersey-based Lingolook Publishing is a leader in foreign language phrasebook applications for iPhone and iPad. Selected among the Best Travel Apps by Travel + Leisure Magazine in 2009, Lingolook's mission is to help English-speaking travelers get by abroad with ease. For more information, email lingolook(at)mac(dot)com.
# # #