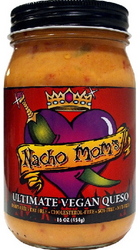 The Nacho Mom's All-Natural Vegan Queso line saw growth at record speed due to label readers who, surprisingly, weren't typically vegan at all.
Austin, TX (PRWEB) February 7, 2011
For 25 years award-winning Austin, TX, chef Alana Leigh had a love for cheese. "I was a vegetarian for most of my life and cheese was nothing short of a main ingredient. I doubt there is a cheese out there I haven't tasted", she says. However, a turn to a stricter vegan diet changed this chef's life in ways she never expected.
"I felt better after eliminating dairy, but my longstanding love affair with cheese, as well as my cravings, weren't going anywhere…& that was frustrating."
During Super Bowl 2010 as Leigh watched friends dive happily into a bowl of salsa mixed with melted processed cheese, she knew exactly what she wanted to convert to a more healthy dish. "I saw a niche open for a healthy queso alternative since this go-to cheese dip is beloved as a dip yet thick enough to stuff a burrito or enchilada, top veggies, mix with pasta…all the things I missed being cheesy. I wish I could say I went home and an hour later had the genius of a perfect vegan queso, but the truth is it took me nearly a year to get it to taste exactly like the 'real deal' & remain all-natural." But when this chef did, she dubbed that batch "Nacho Mom's" (she says because "It's not your mom's queso…It's better.")
And apparently others feel it's better as well. What normally takes years for any food business to achieve, (if at all), took Leigh only a few months. "At the urging of friends I dropped off a jar of my queso to a local Austin grocery store & the Whole Foods corporate office near me. I got instant calls that both wanted it immediately. I was shocked to find the rest of the world may enjoy this as much as I wanted to share it with them." Leigh was right, (but not for the reasons she expected). Three months after she wrote down her final recipe, Nacho Mom's Ultimate Vegan Queso was in some of the top natural grocery store chains in the nation as well as landing the spot of the #1 selling dip on all of Amazon.com…but, surprisingly, not just to vegans.
"I expected a little niche market, but quickly realized my nutritionals opened up the entire world to being my target market with a product for which they'd apparently been waiting. While it's true that Nacho Moms was the 1st vegan queso to hit store shelves, it also happened to be a 10-calorie, fat-free, lactose-free, allergen-free, cholesterol-free queso as well. Those on any special diet could indulge in this cheesy-tasting, decadent dip & share it with friends who just wanted a wicked-good queso. It blows people away that there are only 160 calories in the ENTIRE jar and it's all-natural.. And, apparently, that created vocal raving fans."
And that's why Leigh had the unusual luck of store buyers contacting her for placement, rather than the other way around…& telling her no other company had exploded even close to her warp speed of growth. Yet she is quick to add:
"People call me an overnight success but if they saw how many batches I went through while experimenting, they'd eat their words."
And apparently do it with a kick of spice.
(For current store locations visit http://www.veganqueso.com)
# # #