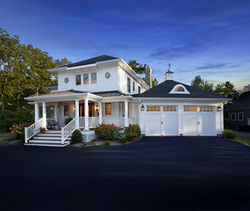 A remodeled kitchen and bath can help sell a home, but curb appeal is what brings buyers through the door.
Mason, OH (PRWEB) February 13, 2011
The findings in the Remodeling 2010-2011 Cost vs. Value Report (http://www.costvsvalue.com) show that entry door and garage door replacement projects not only deliver instant gratification in terms of a home's curb appeal, the projects yield the biggest return-on-investment when it comes to recouping cost at resale.
In fact, midrange entry door and garage door replacement top the list of home improvements, netting the No. 1 and number 2 spots respectively, in the national average.
The publication issued its 24th survey, conducted yearly to determine the return-on- investment for the most common residential remodeling projects. Nine of the top 10 value yielding projects ranked by realtors in the 2010-11 report are exterior replacement jobs.
Small, inexpensive changes that make a big impact – like updated garage doors – bring more reliable returns. The report indicates that, on average, spending $1,291 on a garage door can yield a $1,083 ROI – nearly 84 percent.
Entry doors also made the worth the money cut, as the report showed spending $1,218 on a steel entry door could pay for itself with a 102 percent return. A fiberglass entry door or grand entrance generates between a 60 to 70 percent ROI, depending on the geographic region.
This is the first year Remodeling magazine has included garage door replacement projects on both its midrange and the upscale project lists. Both projects rank high in their respective categories, for two main reasons: they are among the least expensive projects in the survey, and they improve curb appeal in a way that can affect a potential buyer's first impression and, consequently, a home's resale value.
"Many buyers judge a house by its exterior," says Marty Dewald, a real estate veteran with a 21-year track record as a top producer for Comey and Shepherd in Southwest Ohio. "A remodeled kitchen and bath can help sell a home, but curb appeal is what brings buyers through the door. If they don't like what they see from the street, chances are they won't waste time going inside."
In a separate survey conducted by Stratamark Research and Clopay Building Products, a leading manufacturer of garage doors and entry door systems, real estate agents nationwide said replacing garage doors on a home can increase the asking price by up to four percent.
"Garage doors are a major exterior design feature, especially if the garage faces the street," adds Dewald. "Like the entry door project, an upgrade doesn't necessarily cost a lot but it makes a big first impression, considering 73 percent of Americans now enter their home through their garage."
"Despite the decline in housing values, the Cost vs. Value Report and other surveys reinforce that homeowners can continue to improve their homes in ways that will pay off at resale," says Pat Lohse, vice president of residential marketing for Clopay. "Smart exterior upgrades not only increase curb appeal and perceived home value, they improve energy efficiency – another important factor as homeowners look at ways to reduce the long-term costs of owning and maintaining a home. Door replacement can be done in less than a day and the visual gratification is instant."
Clopay® offers an extensive portfolio of residential garage doors manufactured in wood, steel and composite material. In 2010, the company introduced a fiberglass entry door line featuring a variety of decorative windows, sidelites and transom options uniquely designed to complement its most popular garage door styles. To see the complete product portfolio, visit http://www.clopaydoor.com. For more information about the Remodeling 2010-11 Cost vs. Value Report visit http://www.costvsvalue.com.
# # #