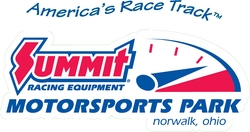 We are pleased to form this relationship with Summit Motorsports Park
Norwalk, Ohio (PRWEB) February 7, 2011
Auto-Plus® auto parts stores will be marketing to the loyal Summit Motorsports Park fan base through a multi-year sponsorship agreement announced today. Uni-Select, an automotive parts program buying group and distributor based in Montreal, announced the sponsorship with the NHRA-sanctioned drag strip Monday.
Through the sponsorship, Uni-Select is supporting its Auto-Plus® network of independent automotive retail stores.
Bill Bader, Jr., president of Summit Motorsports Park, welcomed Uni-Select, saying, "We're glad to see Uni-Select has chosen to grow its market share through a commitment to drag racing, and we're proud they have chosen Summit Motorsports Park as an important part of that strategy. We'll be connecting the 500,000 loyal fans who attend our facility each year to the Auto-Plus® network of 2,500 independent jobber stores."
"We are pleased to form this relationship with Summit Motorsports Park," said Brent Windom, Uni-Select vice president North American Marketing and Product Development. "The Auto-Plus® network of automotive retail stores is continuing to expand across the country. This strategic partnership will help us strengthen key customer relationships in an important market, and reinforce with professional technicians and DIY-ers that Auto-Plus is their trusted source of automotive parts and accessories from the industry's leading suppliers."
As part of the multi-year agreement, Auto-Plus® parts stores will become the Official Auto Parts Store of Summit Motorsports Park.
Uni-Select is also sponsoring the annual Auto-Plus® Night Under Fire at Summit Motorsports Park, the largest single-day drag race in the world. The 34th Annual Auto-Plus® Night Under Fire will be Saturday, August 13, and features historic Funny Cars along with contemporary NHRA Funny Cars, jet-powered dragsters, a jet-powered Kenworth semi truck and a $100,000 fireworks display choreographed to music.
"Uni-Select will be an important part of one of our most important annual events," said Bader. "It is worth noting that in this economy, advance ticket sales for the 2011 Auto-Plus® Night Under Fire are showing a double-digit increase over 2010, which was a record-setting crowd. We expect this year's Auto-Plus® Night Under Fire to be the biggest, most entertaining and most exciting of them all."
For more information on Summit Motorsports Park or the Auto-Plus® Night Under Fire visit the track's website. The second-generation family-owned and operated track is located two miles east of Norwalk, Ohio, just minutes south of Exit 118 (U.S. 250) off Interstate 80, at the intersections of State Routes 18 and 601. For ticket information please call the track Ticket Office at (419) 668-5555.
About Summit Motorsports Park
Summit Racing Equipment Motorsports Park is an NHRA-sanctioned drag strip and one of the nation's top motorsports facilities, located in Norwalk, Ohio, near three of the nation's Top 50 markets: Cleveland, Detroit and Columbus. Over 500,000 fans visit the facility each year and more than 7.5 million households and 20 million people live within a three hour drive. Summit Motorsports Park has an estimated annual economic impact of $98 million. The second-generation family owned and operated track is known for its family entertainment, excellent customer service and famous dollar-a-pound ice cream. Night Under Fire® is a registered trademark.
About Uni-Select
Uni-Select is a Canadian leader in the distribution of automotive replacement parts, equipment, tools and accessories and, through Uni-Select USA, Inc., the Company also provides services to customers in the United States where it is the 7th largest distributor. The Uni-Select Network™ includes over 2,500 independent jobbers and services 3,500 points of sale in North America. Uni-Select is headquartered in Montreal. Uni-Select shares (UNS) are traded on the TMX.
###