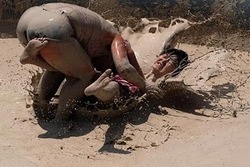 "This is going to be violent, absurd and very funny!"
Hollywood, CA (PRWEB) February 7, 2011
Eccentric Billionaire Alki David presents the first ever BattleCam.com Fight Night tournament live from the Siren Studios in Hollywood, California featuring BattleCam.com personalities and famous celebrities.
The Pay-Per-View event will be available at http://www.BattleCam.com for $4.95 and will allow all the opportunity to interact with the celebrity judges and the crowd, throughout the evening using the BattleCam technology.
Juan Rodriguez, the infamous "Obama" streaker, will spearhead a line-up of eight BattleCam regulars who will square off in a ring consisting of baby oil and diapers. Other BattleCam contestants will include Slipp, The FAJ, Billy The Fridge (aka BTF), DJ Keemstar, Burbon Drinker and Muscleman.
"I've personally flown in members of my BattleCam community to create the first live event for BattleCam.com," said Alki David. "This night is all about having good, clean fun for the more than 30,000 members of an online community that has been built on the amazing BattleCam technology that propels its members into instant stardom."
The single elimination tournament will feature wrestling matches where the winner removes their opponent's diaper.
Guest Judges include Actor Billy Zane, the infamous Ron Jeremy, BattleCam personality Lisa "Sista" Slipp, and Fashion Model Jennifer Stano. Alki David will serve as "Emperor" and Master of Ceremonies for the night.
On Battlecam.com, any registered user can broadcast live from any webcam to an audience of thousands. Audiences get to vote on whether they keep that person on or not by selecting "I like it!" or "Poop." Returning guest appearances include personalities such as Wesley Snipes, Billy Zane, Barry Bonds, Gary Busey and Ron Jeremy to name a few. The best Battlecam.com broadcasters develop cult fan followings and in those circles are deemed legendary for their particular brand of entertainment, whether they are a musician, break dancer or stunt actor. They have the opportunity to, earn redeemable rewards points for their efforts from anywhere in the world. Unsuccessful broadcasters are discarded after their 15 seconds expires.
###