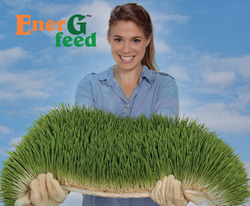 Tulare, CA (PRWEB) February 8, 2011
The EnerG Feed™ brand introduced today at the 2011 World Ag Expo promises to change what you feed your horses, livestock, poultry, swine and exotic ranch animals. The brand offers superior value by delivering high-quality green feed no matter the weather, while stabilizing feed costs at affordable levels for individual or commercial animal owners.
EnerG Feed is defined as a sprout mat of Nature's own energizing, chlorophyll-rich, green feed grown hydroponically, and served fresh daily to domesticated animals.
EnerG Feed is grown using an EnerG HydroPod™ — a portable hydroponic and turnkey feed production unit — built in the U.S. by Green Feed Systems Inc. (GFS) of Ventura, CA. The HydroPod grows trays of super-nutrient natural green sprouts from seed in just six days. Its patent-pending technology makes it possible to serve up fresh feed daily even in arid or cold environments and at required portions. EnerG HydroPod uses low power and water requirements and is available in four models including a mobile option.
At World Ag Expo GFS rolled out its showcase EnerG HydroPod™. A tour of the 30-foot unit gives attendees an inside view of how seeded trays sprout into EnerG Feed™ in six days.
The nutritional benefits of EnerG Feed™ are based on the scientifically proven impact of enzymes, chlorophyll and vitamins. In its first week of life, a sprout is a powerful and active enzyme engine. The sprouting of grain (such as Barley) or legume seeds (Alfalfa) unlocks their full nutrient capacity and empowers muscle oxygenation, endurance and stamina. Chlorophyll promotes easy digestion, circulation, metabolism, hydration, and immunity. Fresh green sprouts are rich in Vitamins A, C, E, and B Complex. Vitamin value multiplies several times in sprouting — fulfilling your animal's daily needs without the use of vitamin supplements.
The EnerG Feed website — http://energfeed.com — launched today includes a video of how a variety of animals go for the feed. They love it! The site also offers an animated illustration of the way the EnerG HydroPod produces the feed.
Contact GFS Sales through its website or call Toll-Free 1-855-EnerG55 (1-855-363-7455) for information on purchasing an EnerG HydroPod or attending their webinars. The company is inviting dealer inquiries from throughout the United States.
About Green Feed Systems Inc.
Green Feed Systems seeks to restore the free access domesticated animals traditionally have had to fresh, green nutrition. We provide commercial farms, ranches, homesteads, equestrian clubs, stables, and zoo facilities with environmentally sustainable, healthier, and more affordable choices for feeding equines, livestock and other animal species. Grow Green! Serve fresh daily.
© 2011 Green Feed Systems Inc. EnerG Feed, EnerG HydroPod, related logos and tag lines are trademarks of Green Feed Systems Inc. All rights reserved worldwide.
# # #