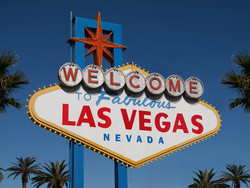 In addition to the sustainable aspect of using crumb rubber for road projects, this highway project is desperately needed to help keep Nevadans employed
Las Vegas, NV (PRWEB) February 8, 2011
The Nevada Department of Transportation (NDOT) recently announced they will be paving a major section of Interstate 15 (I-15) with a rubber paving material.
This material, Asphalt-Rubber (AR) or Rubberized Asphalt as it's sometimes called, is a hot mix paving material that utilizes a recycled product called crumb rubber that is made from waste car and truck tires.
The section to utilize the rubber paving material is a high profile area consisting of both the north and south bound lanes of I-15, from the I-95 interchange to Russell Road that parallels the Las Vegas Strip. With the extreme amount of traffic and the close proximity to the Strip, noise reduction had to play into the decision by NDOT to use AR. According to the web site of the Rubber Pavements Association (RPA) a non-profit industry association that supports the greater use of AR, one of the big benefits of AR is that it helps create a significantly quieter roadway.
Kelly Sockwell, Director of Operations at Phoenix Industries, a local company that has been involved with AR for many years, said "Our company has introduced this paving process into various states in the U.S. and in several countries around the world. We have seen firsthand many of the benefits so we are very pleased to see Asphalt Rubber takeoff here in Nevada. It makes a safer, quieter and better performing road surface than conventional asphalt and its good for the environment."
It is estimated that the I-15 project will utilize crumb rubber processed from over 100,000 waste tires. This, along with another AR project Clark County is planning, will help to put the 1.5 million waste tires generated annually in southern Nevada to good use.
The Plant Manager of Phoenix Industries wholly owned subsidiary, Phoenix Recycling Technologies, James Turner stated "Since the opening of our tire recycling facility in Vegas, in November of 2009, we have shipped crumb rubber to other states and even other countries for asphalt rubber paving projects so it's really great to see a local Nevada project using it. This helps the state do something positive with waste tires and it keeps our guys working. It's good for the local economy."
The movement toward using the sustainable material for paving roads had to do in part with a tire recycling bill sponsored by Nevada State Senator Allison Copening during the 2009 legislative session, which required tire distributors to recycle their waste tires rather than dump in landfills. "In addition to the sustainable aspect of using crumb rubber for road projects, this highway project is desperately needed to help keep Nevadans employed," stated Copening.
Mr. Sockwell went on to say, "Being a local business owner that provides crumb rubber for this type of paving project, I am certainly glad to see it happen. But, more so because I am a Nevada tax payer, I am very happy to see an increase in the use of this extremely durable, long lasting pavement."
For more Information contact: 702-893-4000
info(at)PhoenixIndustries(dot)com
# # #