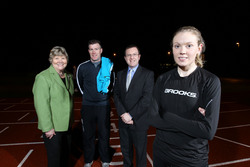 Emma can go very far
(PRWeb UK) February 7, 2011
Emma Mitchell's training schedule includes three days of action at the Mary Peters Track each week... so it's appropriate that she is a winner in the Emo Sports Awards, sponsored by the leading home heating oil company in partnership with the Mary Peters Trust and promoted in the Belfast Telegraph.
The 17-year-old from Banbridge, who gets £400 in the award scheme, has already shown star potential as a middle distance runner.
She has come out on top in several 800-metres and 1500-metres races in Ulster and all-Ireland schools championships.
But her greatest achievement so far was coming sixth in the Irish senior championships in Dublin, when her time of 4.28.67 knocked five seconds off her personal best.
The Banbridge High School student is one of the athletes under the tutelage of award-winning coach Eamonn Christie.
"Emma can go very far," said Eamonn. "She is a quick learner and is totally dedicated to her training and racing."
Emma is in distinguished company in the Christie group, which includes golden girl of the moment Ciara Mageean.
Emma said: "Ciara is a good friend and a source of inspiration. I'll be more than happy if I can stay in touch with her achievements on the track."

The Emo Sports Awards in partnership with the Mary Peters Trust are open to young sportsmen and women from the age of 12. You can nominate yourself or apply through a parent, coach, club or governing body. Each month's £400 winner will be featured in the Belfast Telegraph.
Full details from governing bodies or on the trust website: marypeterstrust.org
###