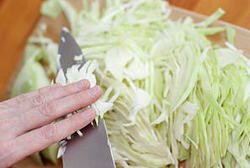 The poor old cabbage has had a rough press over the years
(PRWeb UK) February 9, 2011
Lovethegarden, one of the country's leading online garden experts, are delighted to announce a brand new competition for 2011 that will help make sure that everyone is getting their five portions of fruit and vegetables a day. In an effort to encourage our readers to get creative in both the garden and the kitchen, we're offering fantastic prizes for the winners of our brand new online recipe contest.
It's very simple - every two months we feature a new vegetable in our vegetable garden competition. Readers who have a great recipe for the featured vegetable simply let us know by posting the recipe on their blog and emailing us the link at entries(at)lovethegarden(dot)com. We'll then list all the recipes we receive at our vegetable garden competition page and the recipe with the most votes on our blog wins a £200 meal for two at a restaurant of the winner's choice, anywhere in the UK. Then all entrants need to do is to get their blog readers to vote for them.
The Truth about the Humble Cabbage
This month's featured vegetable is the humble cabbage. Much maligned and misunderstood, we're making it our mission to bring a plethora of new and exciting recipes submitted by our readers that'll make everyone take a fresh look at this king of the garden vegetable plot. "The poor old cabbage has had a rough press over the years," says George Hope from the Lovethegarden team. "It's usually associated with school dinners, or pushed to the side of the plate and ignored as a watery, flavourless mess. The truth is that cabbages are one of the most popular vegetables grown in the UK and are delicious, versatile and incredibly nutritious. We want to showcase not just the cabbage itself, but our reader's creativity and culinary skills and reward that with a prize that celebrates great food," he adds.
The closing date for entries is 11th March 2011, so readers who have a great cabbage recipe – whether it's something they've created themselves or one that has been handed down through the family – simply need to post it up on their blog and let Lovethegarden know. Every two months there's a new featured vegetable and another opportunity to win that fantastic meal for two worth up to £200, so get blogging!
For more details and terms and conditions of entry, visit the vegetable garden competition page at LovetheGarden.com.
Notes to editors:
LovetheGarden ®, (tm) and Miracle-Gro, Plus, Scotts and Pour & Feed are trade marks of The Scotts Miracle-Gro Company LLC or its affiliates.
The Scotts Miracle-Gro Company, Salisbury House, Catteshall Lane, Godalming, Surrey
GU7 1XE
For more information please contact George Hope, George(dot)Hope(at)Scotts(dot)com or Giulia Ferrari Giulia(dot)Ferrari(at)arena-quantum(dot)co(dot)uk.
# # #