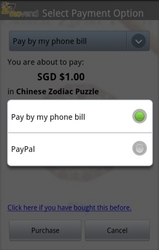 And the ability to easily monetise apps will certainly help encourage developers to continue to produce innovative mobile apps.
Singapore (PRWEB) February 8, 2011
Stream Media Private Limited, a Singapore-based start-up, announced today that it has received S$1 million in Series A funding, led by Stream Global Pte Ltd and SingTel Innov8 Pte Ltd. Stream Media will focus on content acquisition and is working with game studios globally to make use of its payment platform, MoVend.
Launched in July 2010, Stream Media's flagship product, MoVend (http://www.movend.com), is an in-app commerce platform that allows users to make transactions and payments easily, without exiting the app. Other than collecting payment from established gateways like operator billing and PayPal, the platform provides a complete set of features, including user and license management, sales tracking and analytics; so that the developer can have a ease of mind and focus on building quality mobile content and services.
With this round of investment, Stream Media will focus their efforts on aggregating all major global payment options for mobile in-app transactions, through MoVend. Developers will be able to incorporate the MoVend software development kit (SDK) effortlessly into their mobile applications. The product resolves users' problems of fragmented payment options and developers' headaches of monetising their applications. MoVend is currently available for Android phones and will be available on the Apple iPhone, BlackBerry OS and Windows Phone 7 mobile devices within the year.
"We plan for MoVend to become the uniform payment mechanism to enable in-app and virtual goods transactions in all application stores," said MoVend creator and CEO of Stream Media, Chua Zi Yong. "We have closed app distribution deals with original equipment manufacturers (OEMs) and operators to use MoVend for their appstores, and will help developers who use our SDK to publish and market their apps in these channels. We will also preload selected high quality games into devices to boost our developers' revenue."
Mr Edgar Hardless, Managing Director (Investments), SingTel Innov8 said, "The mobile space needs more high-quality apps as more users turn to their mobile devices to cater for their entertainment and productivity needs. And the ability to easily monetise apps will certainly help encourage developers to continue to produce innovative mobile apps."
Since its launch, MoVend has reached out to app and game developers globally. Mobile game publishers like Hyperbees (U.K.) and GoodTeam Studios (China) are the first few that have used the MoVend.
To encourage more developers to use MoVend, Stream Media will be offering the product to developers and merchants at special promotional rates in 2011. Developers can contact the company at sales@movend.com for enquiries.
###