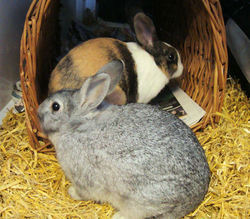 the lost and starving dogs and cats of London so that they should have sanctuary from the cold inhumanity they are being dealt outside
London (PRWeb UK) February 8, 2011
2011 is Chinese Year of the Rabbit and The Mayhew Animal Home in north west London is sending out a message to people to think very carefully before considering getting a rabbit as a pet, as rising abandonment figures mean that they are the third most neglected pet in Britain.
Rabbits are often a popular choice for children, but the animal charity warns parents not to fall for the misconception that rabbits are low-maintenance and an ideal first pet: in fact many rabbits that are brought to the rescue centre are often given up simply because children don't know how to care or are no longer interested in caring for them.
The Mayhew's CEO, Caroline Yates, said: "Rabbits certainly do not make easy pets. They are complicated creatures that have many specialist needs making them sometimes unsuitable as a child's pet. Lots of research needs to be undertaken about their diet and health and welfare needs, so any potential rabbit owner needs to take on board quite a lot of information in order to keep their pet in the best health. The Mayhew would certainly encourage people to think twice before thinking about getting a rabbit as an "easy pet."
In addition to the common misconception that rabbits are an ideal children's pet, there are many other bunny mythologies. For example, rabbits cannot actually digest lettuce, which can give them bloat. And it is rare to find a 'cuddly bunny' as rabbits do not necessarily enjoy being handled and can break their backs very easily if dropped.
The Mayhew has recently built a new accommodation area for rabbits at its facilities in Kensal Green and now has rabbits for adoption. Mayhew staff are on hand to give interested parties advice and information on how to make your rabbit's life a healthy and happy one. Members of the public can take a tour of the Home and learn more about the animals in its care every Saturday, Sunday and Monday at 2pm. Anyone interested in adopting can visit http://www.mayhewanimalhome.org
Photograph: Rabbits Emlyn and Minnie, who were left in a cardboard box in a local park.
For more information or photographs, please contact Sarah Dickinson 020 8968 2443
For the Editor
The Mayhew Animal Home was established in 1886 for the benefit of "the lost and starving dogs and cats of London so that they should have sanctuary from the cold inhumanity they are being dealt outside". Today, The Mayhew is one of the busiest animal sanctuaries in London, rescuing thousands of animals from cruelty and neglect each year. We provide shelter and care for cats, dogs, rabbits and when the need arises, for a wide variety of other animals.
The Mayhew Animal Home strives to tackle the companion animal welfare crisis from every possible angle. The organisation is pro-active, innovative and continually works to assist animals and their carers. The Mayhew offers a wide variety of community services providing advice, care and assistance to animals and their carers whatever their circumstances.
###