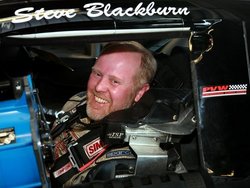 I'm heading to Daytona with one thing in mind, the Winner's Circle
Prestonsburg, KY (PRWEB) February 8, 2011
The Steve Blackburn Motorsports team is on the way back to Daytona International Speedway to try on the Cinderella slipper. The Honda of Prestonsburg/Harley Davidson of Pikeville team, self-funded by Owner/Driver Steve Blackburn has a buzz around it leading up to the Lucas Oil Slick Mist 200 on February 12 and televised nationwide on SPEED channel.
"We're headed to Daytona with one thing in mind, the Winner's Circle", Blackburn said this weekend while overseeing last minute changes and loading for the trip south. " We believe we have the car better than last year here at Daytona and at Talladega in 2008 and we're excited about the opportunity to show the racing world just what a team from Prestonsburg, KY has to offer"
Prestonsburg KY has a strong history of racing with Sap Parker and the Raniers, led by the family patriarch, Harry Ranier, Ranier Racing fielded cars in the NASCAR Winston Cup series for drivers such as Lennie Pond, Buddy Baker, Bobby Allison, Cale Yarborough, and Davey Allison.
In 2008, Steve had one of the strongest cars on the track for the Spring ARCA race and was in the preferred position of second place behind Joey Logano with 4 laps to go. Debris on the track sliced the inside of his left rear tire and Steve had to pull the #69 Harley Davidson of Pikeville Dodge down to the inside to keep from causing a big pileup involving other competitors. "Steve did a tremendous job of handling the car at over 180 mph with a flat left rear", Crew Chief Gary Hostettler noted. "It was a huge disappointment not being able to finish knowing the car we had on the track that day. We firmly believe we had the best opportunity to win that race".
Steve Blackburn has put his fellow ARCA competitors on notice more than once. In December of 2008, Steve dominated the testing sessions at the Daytona International Speedway.
From one of the racing reporters covering the events:
"The Prestonsburg, KY driver led the way again late Sunday afternoon during the final drafting session with the fastest lap of the day. Blackburn, in his own Dodge Charger, circled the "World Center of Racing" in 49.952 seconds, for an average speed of 182.246 mph."
"We put on a new set (of tires) and they hooked up," said Blackburn, who was also fastest in both sessions on Friday. "The test was a real boost to our team; we can walk out of here with our heads held high. Just hope we can come back in February and do it again."
Blackburn is now actively interviewing potential sponsors interested in funding a full season for ARCA and actually will be meeting with a few while at Daytona this week leading up to the race. With costs continuing to rise, self-funding is becoming an endeavor that's harder and harder to accomplish.
If Cinderella's slipper fits on Saturday, look for Steve and the Steve Blackburn Motorsports team to attend more ARCA events and compete for a series championship.
Championships: 2004 NASCAR Dodge Weekly Series Atlantic Region Champion. 2004 Lonesome Pine Raceway Late Model Division Track Champion (Won 14 of 19 races)
Experience: Blackburn first began racing motorcycles touring nationally throughout the 1980s. He captured a national championship in the early 80s and continued on a successful pace throughout the early 90s. Winning the U. S. Twin Sports at Daytona International Speedway was the highlight of his bike career. His 35 years of racing experience now include championships in both motorcycle racing and stock car racing. He turned his attention to stock car racing in the late 1990s and hasn't looked back since.
Then & Now: In the late 90s, Blackburn made a career change, moving to dirt modified stock car racing. Winning local and national championships, Steve gained valuable experience testing his skills and eventually moving to a full-bodied late model stock car.
Winning a NASCAR Dodge Weekly Racing Series Atlantic Region Championship and winning the Lonesome Pine Speedway (VA) most popular driver award in 2004, Blackburn Motorsports felt challenged to take on the next level - the ARCA RE/MAX Series. His first appearance came at the 1.5 mile paved oval Kentucky Speedway in May 2005. The Prestonsburg KY native took his fellow competitors by surprise. Running 4th in practice at 166.3 mph, the rookie proved to be a serious contender. Unfortunately, his qualifying attempt was hindered due to rainfall, keeping him out of the event. He returned to the speedway in July, again surprising everyone with a 14th place finish in the night race.
Potential interested sponsors and media may contact Billy Pickering, Director of Marketing for Steve Blackburn Motorsports at billy(at)steveblackburnmotorsports(dot)com or by phone at 606-253-8470.
###