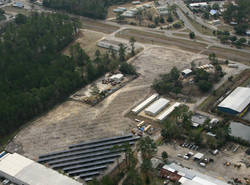 A feed in tariff provides a solid bankable security that provides confidence for investors with a guaranteed return for 20+ years.
Lakeland, FL (PRWEB) February 7, 2011
The 2MW array will be completed next month and is comprised of 8600 modules erected on 9 acres off U.S. 441. Gainesville Regional Utilities (GRU) will purchase the electricity produced for twenty years at a fixed rate of 0.26 per kWh under the terms of their feed in tariff program (FIT).
Gainesville accounts for 39 percent of all solar PV installations in Florida, according to the National Renewable Energy Lab (NREL), and Sybac's solar farm is the largest to be built under GRU's program.
While many investors have reserved the allocation rights to participate in GRU's FIT program, which has a cap of 4MW a year, investment deals are taking longer to finance which has made it difficult for many to move on to the construction stage. Sybac Solar stepped in and purchased the land and allocation rights from Entrust Holdings, a real estate investment company, and funded the project themselves, introducing their German investment model to the U.S. market.
Artur Madej, Sybac's president, tills this field of dreams when it comes to building MW scale power plants. Build it and investors will come. The Lakeland office follows the same business model that Germany follows. They provide full service EPC (engineering, procurement and construction) including installation and maintenance for individual investors and they also build their own portfolio of solar farms for resale to investors. "A feed in tariff provides a solid bankable security that provides confidence for investors with a guaranteed return for 20+ years," said Madej. "There are many in the investment community looking for turn-key solar farms with FIT contracts who are not interested in the project development phase. We just purchased the allocation rights for an additional 500kW system in Gainesville which will be built in the next 4 months and we are working on two 10 MW development deals in Ontario, Canada which has a province wide feed in tariff program," said Madej.
The total cost to build the solar farm is estimated at approximately $7 million, or $3.50 per watt, a price that is significantly less than the regional average price of $5.50/watt calculated by NREL. Buying power is the reason why Sybac is able to install systems below the prevailing price charged by other solar integrators in Gainesville. The Lakeland office leverages the buying power from its German parent that installs over 300 MW a year in Italy, Spain, Germany and the Czech Republic. The company is currently installing a 26MW solar plant outside Berlin.
Sybac Solar's investment in Gainesville has paid dividends in local job creation as well. The company has hired fourteen local subcontractors to work directly on the build. "The Gainesville Chamber of Commerce was a tremendous help," said Rick Falz, Sybac Solar's Director of Technology. "They put us in touch with the best local companies that included a fencing company, land clearing, surveyors, engineers and attorneys." Working with a local workforce is part of Sybac's corporate philosophy. "We are giving back to the environment with every solar module that we install. We choose to work with a local workforce whenever possible to help the community grow," said Markus Falz, Sybac's Project Manager. Sybac's investment in Gainesville has created over 33 jobs in the construction and installation related services helping to foster economic growth in the area.
The solar power plant will produce over 3,106 mWh of electricity a year, enough to power 300 homes and save 64,780 lbs. CO2 over the life of the system, equivalent to approximately 130,000 auto miles.
Contact:
Whitney Rauh
Solar Project Development Director
Sybac Solar, LLC
4759 Drane Field Rd
Lakeland, FL 33811
Tel: (863) 229-1081
Fax: (863) 937-9388
wrauh(at)sybacsolar(dot)com
http://www.sybacsolar.com
About Sybac Solar:
SYBAC Solar designs and installs commercial and utility scale solar power systems. Established in 1992 we are a global solar engineering firm with principal headquarters in Germany (http://www.sybac-solar.eu). Our U.S. headquarters, based in Lakeland, FL, (http://www.sybacsolar.com) provides full in-house Engineering Procurement and Construction (EPC) services and installation. The company has designed and built over 2,000 installed photovoltaic systems in the U.S., Italy, Spain, Germany and the Czech Republic. Sybac offers a single source for all aspects of solar planning; consulting, planning, development, implementation, commissioning and maintenance.
# # #